Marcia Lyon's Creating Spaces
Typical cramped bungalow gets relief with conservative addition
Posted on Thu, Jun 17, 2010 : 7:39 a.m.
There are just a few versions of the basic bungalow.
Typically, there are two bedrooms divided by a full bathroom on one side of the house, with a finishable attic for another bedroom. The right side sometimes has a vestibuled front door, leading visitors through the living room. The stairs, dining room and kitchen are usually located behind the living room.
A bungalow is a great house for many families. Through the years, modifications and updates rarely change the character of the bungalow substantially.
PROBLEM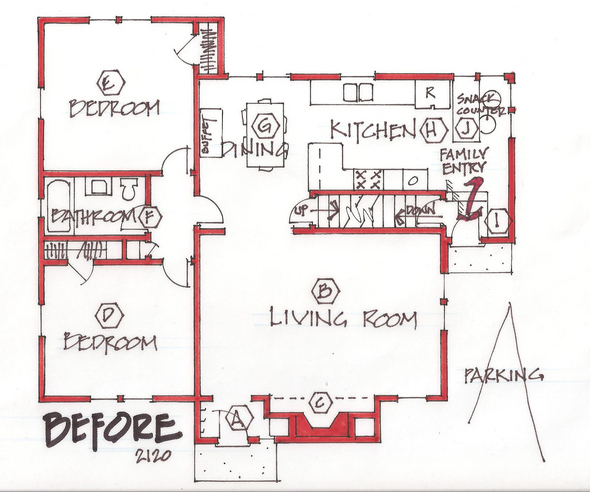 This was a bungalow overflowing with charm and personality. The vestibule entry (A) was filled with beautiful oak woodwork and original hooks. The surprisingly large living room (B) featured a recessed fireplace nook(C), lined with exquisite tile work. The two bedrooms (D & E), and the bathroom (F), were fine and needed no changes. The problem area started with the cramped dining room (G), the kitchen (H) and totally inadequate family entry (I). Part of the problem with the family entry (I), was that it was essentially a stair landing, with steps up to the kitchen. A snack counter (J) at the end of the kitchen functioned primarily as a 'dumping spot' for coats, groceries, and other various incoming goods. The homeowner was frustrated with the flow of this area and the fact that ALL TRAFFIC went through the kitchen. It was more than time to re-do the kitchen, but they didn't want to just replace cabinets without improving the flow. They had limited space to add, but knew we had to get the space from somewhere!
SOLUTION
I was able to solve many problems with one small 7'-6" addition (K). It lines up with the offset from the bedroom (L), resulting in a natural recess for a new deck (M) .This creates a new outdoor access for grilling out and entertaining. Notice that I put the door on the kitchen side, rather than adding a sliding glass door or French doors in the dining room - that would only take up valuable dining space and create traffic in the wrong place. We gained more space in the dining room by making an arched-topped recess (P) for the buffet. This detail looks like it came with the house. This new core area continues with a room that doubles as a pantry and laundry room (Q). We are always short of storage space and this area is a real bonus. We were able to tuck a coat closet into this core as well, creating a 'real' family entry (R) with a counter and cabinets. The new kitchen is laid out in a way that traffic passes by, not through it. All of the appliances are on the outside wall, and an eat-on counter serves as the main prep and serving area. Lots of windows add natural light and make it a pleasant place to be.