Posted on
Thu, Dec 10, 2009 : 6 a.m.
West side Ann Arbor ranch becomes work of art/artist
By Janet Miller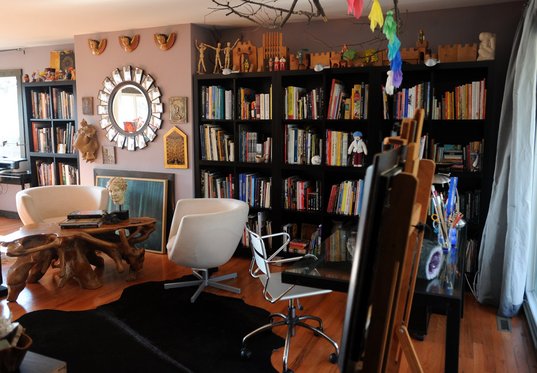 Melanie Maxwell | AnnArbor.com
Behind a stand of mature pine trees and winding groundcover, Elena Townsend-Efimova has turned her small westside Ann Arbor home into an artist's palette.

She's knocked out walls that made the 1956 ranch feel small, pulled up carpet to uncover oak floors, painted the interior a subtle shade of purple that offers a neutral background and bought budget when it didn't matter and high-end when it did.

The result is a compact, 1,000-square-foot house with swirls of colors and shapes that has more to look at than houses twice its size.
"I can turn an ugly house into a piece of art. It's a passion," said Townsend-Efimova, who trained as an architect in her Russian homeland and who now teaches fine art.

There's Townsend-Efimova's art, along with art from artist friends up the block and around the world.
The iron-on-iron sculpture made by her daughter that doubles as her house number along with the exclamation point of a red door hint of what's inside. 

Nearly four years ago, when Townsend-Efimova decided to downsize after her two adult daughters moved out, she left a three-acre farm with 13 outbuildings outside of Ann Arbor and went looking for the right small house. 
She'd made an offer on another home, but stumbled across the little house on Charlton.
Townsend-Efimova walked around the outside of the house - she wasn't with a real estate agent and the owners weren't home - peering through the windows. She admired the deck that wrapped around most of the circumference and noted the backyard filled with mature trees.
"For me, the most important thing was the view," she said.
She knew how to work with small spaces: She had lived in an apartment in St. Petersburg before moving to the United States in 1993.

Without going into the house, Townsend-Efimova made an offer.
"I called the agent and they wanted to know if I wanted to go inside. I told them no, it was not necessary for me. I was already passionate," she said. 

Townsend-Efimova knocked down the kitchen and hallway walls, opening up the space to the dining and living rooms. She replaced the old kitchen appliances and built a large island between the kitchen and dining room, topped by a colorful slab of granite that reminded her of a wave and clouds.
She installed Ikea cabinets in the kitchen, keeping to her budget. But she spent $80 on a glass and brushed nickel handle from Fingerle Lumber for the pantry door.
It is important, she said, not to skimp on small details. "Details do everything," she said.

There are no formal spaces in the house, and each space is used every day, she said. There's nothing just for show.
"I live in every square foot of the house many times a day. The space is multi-functional. I don't like to pretend," Townsend-Efimova said.

She replaced the doors and bought new molding, staining it an unusual smoky gray. It was important to have a neutral wall cover so it wouldn't be a show-stealer for her art collection. "It's neutral, but it's not beige," Townsend-Efimova said.

Paintings in many mediums cover the walls. There are reliefs, dolls and even a cow skull. Hanging in the hall are two religious icons Townsend-Efimova painted on wood using real gold leaf and egg tempera, painted made from powdered minerals mixed with egg yolk and wine, the method used by 13th century artists. 

Down the hall is the sitting room. A one-time bedroom, part of the wall had already been removed when she bought the house, opening it up to the hallway. This is where the TV sits, a setting, she admits, that can be difficult to make beautiful.
But on the wall above the television, Townsend-Efimova has assembled a collage of relief art she has collected from around the world, from Istanbul to India.
"The TV is ugly, but at least during commercials the eye has something beautiful to rest on," she said.

The bath had a pink bathtub and sliding door. She gutted the room, covering the walls with small glass tile, installing a walk-in shower and buying a vessel sink that sits on a glass table - and ties into the glass tile
.
During the warm months, Townsend-Efimova sits in a secluded corner of her deck to watch wildlife and work on her art. "It's like a circled nest," she said.
She can look out onto the yard - there are just trees and ground cover, no grass and no need to mow.
In the winter, she's bought a piece of outside indoor. She has suspended seven-foot branches from the ceilings, decorating them with art, from hanging glass pears to whimsical woolen gnomes. 

The downstairs space that opens up the backyard and has two large windows for ample daylight is her studio and where she teaches art, displays the work of her students and has squeezed in an extra room and bath. 

"My decorating is not traditional," Townsend-Efimova said. "I don't just put a poster or a painting on the wall above the couch."