Posted on
Fri, Oct 28, 2011 : 6 a.m.
Winterizing your lawn mower will ensure an easy startup in the spring
By Keith A. Paul
Photo by Nicholas Paul
Hi Keith,
Last year my lawn mower didn't start in the spring, and I had to take it to the engine repair shop to get it started. They told me the cause of the repair was due to non-winterizing. As you may guess, I don't want to pay that big repair bill again. Can you take me through the winterizing steps?
—Tim E., Ann Arbor
Hi Tim,
Paying that repair bill can be avoided next spring with a few winterizing tips. If it makes a difference, I also learned the hard way with a non-starting lawn mower.
The good news is that all you need is about an hour and a couple products to ensure a quick starting, well-maintained mower.

First read the owner's manual. Although most mower's maintenance procedures are similar, some steps and products differ among them. Secondly, be sure to keep the scheduled maintenance chart up to date and with the manual, as this will help remind you of previous maintenance projects and dates.
Tools needed: empty coffee can or mason jar for the old oil, socket set, disposable drop cloth, new oil and sparkplug .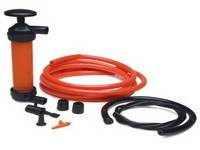 Photo by: Amazon.com
If it's time to replace the oil, run the engine for a minute or two first. By doing so, the oil will heat up and will make it easier to drain. Carefully drain or siphon the oil into an empty coffee can or mason jar and dispose of at your local recycling center. Replace the oil according to the manufacture's instructions regarding the type and amount.
Remove and replace the spark plug if necessary. You'll know this if the top of the sparkplug is deteriorated, very dirty or corroded.
Drain any gas remaining in the engine or pour in a gas stabilizer. I prefer the stabilizer method since it will help preserve the gas and save you a step.
Check the air filter and replace if necessary.
Clean any grass or weeds off the mower, especially underneath the lawn mower. This will help minimize rust during the winter months.
Check the blade. If it's dull, you can get it sharpened (or replaced) at most local hardware stores.
Enjoy the peace of mind with knowing your lawn mower will have an easy startup and be ready to make your lawn the envy of your neighborhood. Also, don't forget to winterize your weed trimmer and other gas equipment the same way.
Paul is a State of Michigan Licensed Builder. Paul serves as President and founding member of Nationally franchised HandyPro Handyman Service, servicing Washtenaw, Wayne and Oakland Counties. www.handypro.com Listen to Paul every Saturday at 11 a.m. on "It's Your Business, Make It Happen" WAAM Talk 1600AM. Email questions or comments to kpaul@handypro.com.