Posted on
Mon, Nov 7, 2011 : 11:02 p.m.
Witch-Hazel: An understated late bloomer adds late color to your yard
By Rick Meader
Rick Meader | Contributor
A walk through an oak forest right now will reveal some yellow and brown leaves, perhaps a red here and there, and maybe a stray yellow flower or two from a bluestem goldenrod or a lavender smooth aster, but there is no mistaking that the growing season is over. But then, atop an open, small tree, a flash of yellow may catch your eye.
Upon closer inspection you might find a small yellow flower with strap-like petals, still blooming away. If you do, you've come across one of my favorite woodland denizens, the common witch-hazel (Hamamelis virginiana).
Witch-hazel is a small understory tree that prefers open, forests. It has an open character and usually reaches a height of 15 feet or so, but may get to twice that height. Its alternately-arranged leaves are about three inches wide and four inches long, with scalloped edges. They turn a light shade of yellow in the fall.
The flower is about one inch in diameter and it blooms in October-November. If you get close enough, you may smell its spicy fragrance.
A fun thing about this plant is its seed pod. When it is ripe (this may take a year), it fires the seed out in a mini-explosion to help with its distribution across the forest floor, up to 30 feet, so wear your safety goggles when you take a walk in a witch-hazel-populated forest.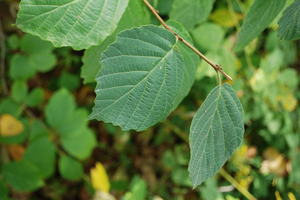 Rick Meader | Contributor
What I like most about this plant, aside from its tough, in-fall's-face flowering attitude, is its open character, under which many plants can grow. I also like its understory nature and naked buds, which are fairly unique in the world of tree buds and make winter identification a bit easier.
According to the USDA Plants database, it is native to the eastern half of North America, west to Texas and Oklahoma. Spring-flowering witch-hazel (Hamamelis vernalis) is popular in the nursery trade, but its native range is actually much smaller than common witch-hazel's, only limited to Missouri, Arkansas, Oklahoma and Texas. Another spring-blooming witch-hazel common in the nursery trade is Hamamelis mollis, which is native to China, not North America.
In today's world, witch-hazel is used as an astringent, available at your neighborhood apothecary, and some other uses as well. Branches from it were used by dousers for their divining rods. Native Americans gathered it for a wide range of uses, including treatments for colds, dysentery, cholera and sore backs. It doesn't really support a great deal of wildlife, but can be a good perch for birds of the forest.
When you're walking in the woods this fall, keep your peepers peeled for a scrappy little flower that dares snowflakes to land on its petals. It's a late season gift from the woods. Aside from Witch-hazel and a few stray aster flowers, blooming is done for the season in my yard. Get out and enjoy the crunch of leaves under your feet everyone!
Rick is a local landscape architect with a special interest in all things natural, including creating designs that include a lot of native plants (and the critters they support). You can contact him at yourland1824@gmail.com.