Posted on
Fri, Nov 2, 2012 : 9:37 a.m.
2008 vs. 2012: A new money record?
By Wayne Baker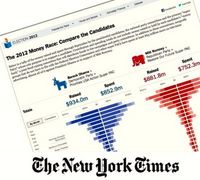 Editor's note: This post is part of a series by Dr. Baker on Our Values about core American values. This week Dr. Baker is discussing the past four years.
Will the 2012 presidential election set a new record for money raised and spent? And, assuming a new record is set, how different will it be from the spending in 2008?
All week, we've discussed what's different in 2012 from 2008: less interest this time, shifting political affiliations, the rising importance of social media, and a predicted lower voter turnout. Today, we follow the money.
As a starting point, consider that the 2008 presidential election was the costliest ever at that time. Obama and McCain spent about $1.7 billion. It looks like a new record will be set in 2012, but not by a huge margin.
By the end of September, the Obama campaign had spent $852.9 million of the $934 million it had raised, according to the New York Times. The Romney campaign had spent $752.3 million of the $881.8 million it had raised.
The two campaigns differ in the size of donations made by individuals. More than half (56 percent) of donations to Obama were under $200 each. Only 11 percent were the maximum of $2,500. In contrast, 23 percent of donations to Romney were under $200 each, with 42 percent at the maximum allowed for an individual.
The size of donations from Super PACs was more similar, though Obama tended to get more big-check donations than Romney did. Almost half (49 percent) of Super PAC donations to Obama were $1 million or more each. Romney secured 38 percent of Super PAC donations in the $1 million or more range. There is no maximum limit to the size of Super PAC donations.
What do you make of the price tag of running a president campaign?
Is it worth billions of dollars?
Should there be a cap on how much money a candidate can raise and spend?
Wayne Baker is a sociologist on the faculty of the University of Michigan Ross School of Business. Baker blogs daily at Our Values and can be reached at ourvaluesproject@gmail.com or on Facebook.