Posted on
Wed, Oct 31, 2012 : 11:27 a.m.
2008 vs. 2012: Do your Facebook friends 'like' Obama or Romney?
By Wayne Baker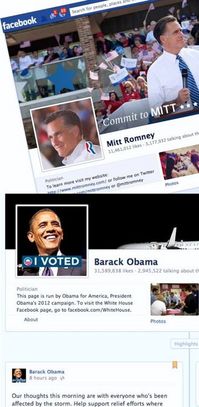 Editor's note: This post is part of a series by Dr. Baker on Our Values about core American values. This week Dr. Baker is discussing the past four years.
More than a billion people around the world use Facebook. If you are one of them, you can "like" your preferred presidential candidate—or both of them, if you wish. In 2008, the Obama campaign pioneered the use of social media to garner support, raise funds, and mobilize the electorate.
How much has changed in the last four years?
Both campaigns in 2012 actively use social media. More than 40 million people "like" the presidential candidates on Facebook. As of today, the total is more than 43 million. That's a whopping increase from only 2 million in 2008.
Do you use social media like Facebook or Twitter to stay in the know about political happenings and events? More than a third (36 percent) of people who use sites like these say they are important for keeping up with political news, according to findings compiled by the Pew Research Center.
There is immediate and persuasive feedback when a person is logged into Facebook and checks out these two candidates' main Facebook pages. It's in a box on the page that tells you how many of your friends already have "liked" the candidate. Visiting these Facebook pages tells you, at a glance, how much of your own peer pressure is moving toward each political party.
That's not all! More than 67 million people watched the first debate between Romney and Obama. If you were one of them, how did you view it? Pew reports that one in 10 (about 6.7 million) "dual screened" the event. This means that they watched it on television and followed it on a computer, smart phone or other mobile device.
Do you use social media to "like" or follow a candidate?
Do you know someone who does?
Will Facebook, Twitter, and other social media revolutionize the way political campaigns are conducted?
Wayne Baker is a sociologist on the faculty of the University of Michigan Ross School of Business. Baker blogs daily at Our Values and can be reached at ourvaluesproject@gmail.com or on Facebook.