Posted on
Sun, Jan 13, 2013 : 6 a.m.
2013 Forecast: Is extreme weather a hot 'values issue'?
By Wayne Baker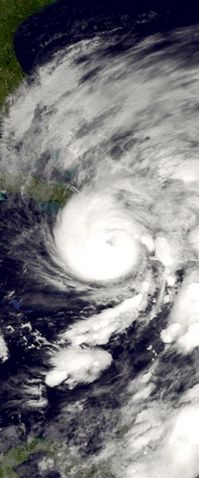 Editor's note: This post is part of a series by Dr. Baker on Our Values about core American values. This week Dr. Baker is discussing future hot button issues.
It's time for one of the most popular OurValues series of the year: Our forecast of Top Values Issues for 2013. Care to flash back one year? Here's the start of our 2012 series, but — to save you time — I'll cut to the bottom line: Last year, extreme weather was on the back burner. Until …
Until—Hurricane Sandy slammed into the East Coast and New York City's politically neutral mayor endorsed President Obama for re-election, explaining that Obama seemed more likely to help the nation cope with extreme weather.
And in January 2013? It just snowed several inches in Jerusalem. Jan. 7 was the hottest day in Australian recorded history. Beijing is locked in sub-zero cold. Brazil has experienced an all-time heat record. The list of extreme weather goes on and on (which you can see here).
Is climate change for real?
2012 was the warmest year on record in the lower 48 states, according to the "State of the Climate" report by NOAA. That means the warmest since 1895. This year, water levels in the Great Lakes are projected to hit an all-time low.
Around my home base in Ann Arbor, spring returned in the last few days, melting the snow and bringing out flocks of runners in their fair-weather gear. Meanwhile, friends in southern Arizona were wrapping their outside plants with burlap, bracing for below-freezing temperatures.
It's a long shot, I admit, but I predict that climate change will be one of the top values issues in 2013. I call it a long shot because views on climate change are so politicized, entombed in political ideology, and other more immediate concerns—like the economy—are foremost in people's minds.
Last year, just a little more than half of Americans (52 percent) said that global warming has already begun, according to a Gallup poll, with another 29 percent saying that it global warming may start happening in the future. Democrats more than Republicans are likely to say that global warming is happening, a political divided that has deepened over time.
Does the bizarre weather worry you?
Have your beliefs about climate change changed?
Is climate change on your list of top values issues for this year?
Wayne Baker is a sociologist on the faculty of the University of Michigan Ross School of Business. Baker blogs daily at Our Values and can be reached at ourvaluesproject@gmail.com or on Facebook.