Posted on
Mon, Dec 31, 2012 : 6 a.m.
Almosting It: A James Joyce New Year's resolution
By Wayne Baker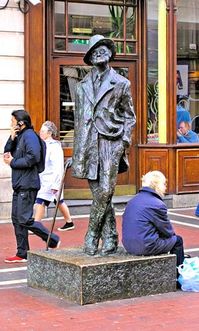 Dear Readers
(a note from Dr. Wayne Baker):
I'm away with family, closing out 2012 and opening 2013. Our regular guest columnist Terry Gallagher is taking the helm for us. Thank you, Terry! And: Thank you, readers, for a marvelous year!
Here's Terry …
If you're making up your New Year's resolutions today, let me throw you a lifeline.
One reason that so many resolutions fail is their absolutist quality: you either quit smoking or you don't.
We might be happier if we think about "almosting it" instead.
"Almosting it" comes from a line in James Joyce's Ulysses, and like a lot of that book, its meaning isn't completely transparent. But most take it to mean something like "getting close enough."
In his book The Catholic Ethic and the Spirit of Community, Prof. John Tropman uses the word "satisficing" for this same idea, meaning: good enough. "Satisficing" is the difference between finding the sharpest needle in the haystack and finding one sharp enough to sew with, and Tropman says it is one of the main distinctions between the Protestant ethic and a Catholic one. In the Catholic context, he says, "with respect to salvation, at least, degrees matter. An individual moves toward salvation and occasionally moves back."
For me, "almosting it" means that I can set my sights on getting better at something without thinking that I'll ever master that skill or craft. Maybe you don't have to lose 30 pounds to be able to say you've kept your New Year's resolution.
In this week's columns, I'm going to write about some of my stabs at "almosting it," and I hope you'll share some of your resolutions, too, both successes and almost-ones.
TERRY GALLAGHER has worked for more than 30 years using media to build stronger institutions and communities. As regular guest columnist for Our Values, he has written about a wide range of topics including New Year's resolutions and teaching old dogs new tricks.
What's your approach to New Year's resolutions?
Do you make them? Do you reject the idea? Do you add your own twist?
Originally published on OurValues.org.