Posted on
Fri, Nov 25, 2011 : 6:11 a.m.
Snagging the Lawn Trout and the return of Bar Flies
By Tom Teague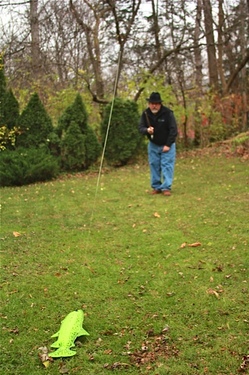 Photo courtesy of Mike Mouradian
Fly anglers who put in hours of dry-land casting practice in back yards or parks are wearily familiar with the frequently-asked questions of passers by and neighbors: "Catchin' anything? Heh heh."
Now Mike Mouradian, an Ann Arbor-based photographer and president of the local chapter of Trout Unlimited, is providing an answer with the Lawn Trout.
I met Mike at Hunt Park Sunday for a few minutes of casting practice with the Lawn Trout. The kit comes in a small paint can with a retro fly fishing graphic and includes a 14-inch green polyester trout printed with brown trout speckles and two hook-and-loop flies with the approximate heft of a size 12 Woolly Bugger. The flies adhere well to the fabric skin of the trout.
He set the target trout about 20 feet away — a generous distance for my rusty post-season casting — and after two or three tries I snagged it. And then, just like the monster rainbow I once caught in Wyoming, I horsed the fly off and lost the fish. A couple of more casts and I reeled it in, smiling proudly when Mike took my photo holding the Lawn Trout.
A jogger went by while I was casting and for the first time in my life I was disappointed that he didn't say, "Catching anything? Heh heh," because finally I had an answer. This was fun, and I have already made a gigantic hint that a Lawn Trout under the Christmas tree would be a welcome sight.
All proceeds from the sale of Lawn Trout go to fund youth fishing classes through the local Trout Unlimited chapter. The Lawn Trout is printed and assembled locally. It is available for $20 through the lawntrout.com website or at Colton Bay Outfitters or The Painted Trout. There are volume packages for fly-fishing schools.
A quick aside for those of you new to or unfamiliar with the sport: Dry casting is the fly fishing equivalent of putting golf balls into a cup. Grass is slightly clingy and provides some of the feel of casting into water. Spending a few spare minutes on a lawn with the rod and reel can improve the basic motor skills of casting and line pick up and also help anglers learn to gauge distances and the effects of wind.
In winter, anglers' thoughts turn to fly tying, and a local guide is providing opportunities to learn the art or sharpen your skills.
Schultz Outfitters' popular Bar Flies series continues Wednesdays at the Dexter Pub, in Dexter. Classes are $20, and the fee includes hooks and materials needed for each fly; participants should bring their own vise, tools and thread. On Wednesday, Nov.r 30, Greg Senyo will teach Steelhead Alley Swing Flies, followed by Bruce Chard demonstrating Bonefish & Permit Patterns on Dec. 7. There's more information, including a full schedule through March, on the site.
If you're tying unique flies that you'd like to share with others in the area, if you have announcements about activities related to local fly fishing, or if you have a great Michigan fly fishing story, please send me a note at tom@tomteague.com . Future columns will be published every other week and will have a focus on fly fishing in Michigan and regional waters.