Posted on
Thu, Apr 12, 2012 : 11 a.m.
Are you oversharing online? Think before you post!
By Kristin Judge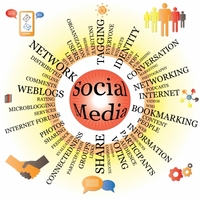 Photo by www.freedigitalphotos.net
To find out how much of your information is online, just do a search of your name. Surprised? The Pew Research Center did a 2010 study called "Reputation Management and Social Media" to find out how much personal information we are sharing.
The unofficial answer is too much! Surprisingly, the study found that adults share even more freely than younger users. And we thought kids were more revealing online.
In my last column, I wrote about protecting your kids from making poor decisions online. Usually it is the kid's behavior that is scrutinized, but parents can unknowingly expose their kids by posting too much information.
Again, think about the 542 "friends" you are sharing information with online. We recommend our kids not share birthdates, school name and other identifying information.
But, when a mom announces online that her daughter turned 16 today and got her license, we have her date of birth. Then the next post could show a link to her winning high school sport's team news story. Next, comes an announcement on what college they were just accepted to.
Can you see the beginning of a personal profile? Does each of your "friends" need to know this personal information about your child?
Summer vacation season is coming up soon, and I'm hoping this column can influence people to think before posting details online. When people go on vacation, they may stop the mail and newspaper delivery, have a neighbor bring in the trashcans and set light timers in the hopes of stopping a potential burglar.
We certainly do not put a "gone fishing" sign on the door when we leave town — inviting criminals to take advantage of an easy mark. So, why do people insist on sharing their itinerary and real-time photos online when they go on vacation?
I understand the urge to share that beautiful picture on the beach with your closest 542 "friends," but know that the information you share can get into the wrong hands. A quick online search will show examples of people who have been robbed as a result of posting too much information online. All the great details of a vacation can still be shared; just wait until you get home!

Recently, some companies made news by requiring employees to share their Facebook passwords. Employers often conduct online searches of a potential candidates to see what information they have posted. Colleges have also been known to check prospective students on social media sites. Being a believer in personal privacy, this makes me a little uneasy.
However, we all need to remember that the Internet is not a private place. Once information is posted online, we give up control of that information. It is important to own your digital footprint. Don't post anything that can be misinterpreted.
Even when you take all the right steps to not overshare online, others who do not practice the same restraint can impact you. In fact, I have found myself in situations where photos of others and me at various events or activities were posted on friends' social media pages without my permission.
As much as we like to share pictures, we need to consider the other people in the photo. Posting pictures of yourself is one thing, but when you include others, you should use caution and understand the implications.
Today's Quick Tip (QT):
Think before posting personal information online. Keep these questions in mind:
Who will see it?
What can they do with it?
Why do I want or need to share it?
To get more great information about staying safe online, including access to free monthly newsletters, webcasts and more, visit the Center for Internet Security at www.cisecurity.org. Stay tuned for our next chat!
Kristin Judge is the Director of Partner Engagement for the Center for Internet Security, Multi-State Information Sharing and Analysis Center. She can be reached at kristin.judge@msisac.org.