Posted on
Wed, Jun 6, 2012 : 11:32 a.m.
Birth control: Is this really the 'polarization' problem?
By Wayne Baker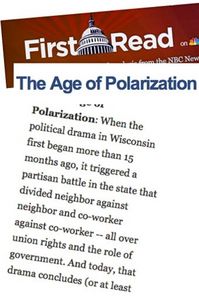 Editor's note: This post is part of a series by Dr. Baker on Our Values about core American values. This week Dr. Baker is discussing birth control in America.
It's the "Age of Polarization," proclaimed NBC's FirstRead yesterday, referring to the dramatic recall contest in Wisconsin. The battle between Gov. Scott Walker and Milwaukee Mayor Tom Barrett is "just the latest chapter in this current Age of Polarization." Tuesday night, we learned that Walker survived this challenge — but that doesn't mean Wisconsin's polarization suddenly has evaporated.
Birth control has emerged this year with some activists pushing it to become a political hot button throughout the presidential campaign. We began on Monday exploring this complex issue.
But, today it's timely to ask: Is birth control really fueling this Age of Polarization?
The answer is: Not hardly, if you look at what Republicans, Democrats and Independents think of the issue. Eighty-seven percent of Republicans say it's morally acceptable. So do 89 percent of Independents and 90 percent of Democrats, according to the new Gallup poll we are discussing this week.
What are the truly divisive issues?
Gallup looked at 18 potential controversial issues, along with birth control. The big divides are:
Death penalty Almost two-thirds of Republicans say it is morally acceptable. Fewer than half of Democrats (42 percent) agree.
Medical testing on animals Almost seven of ten (69 percent) of Republicans say it is morally acceptable, while only 48 ercent of Democrats say the same.
The positions of support are reversed for other issues that represent big divides:
Having a baby outside of marriage Over six of ten (64 percent) of Democrats say it is morally acceptable, compared to only 35 percent of Republicans.
Gay or lesbian relations Two-thirds (66 percent) of Democrats say this is morally acceptable, but only 36 percent of Republicans agree.
Abortion Just over half (52 percent) of Democrats say abortion is morally acceptable. Just over two of 10 (22 percent) Republicans agree.
Are you surprised that Republicans and Democrats agree on birth control?
Why do you think these other issues are so divisive?
Dr. Wayne E. Baker is a sociologist on the faculty of the University of Michigan Ross School of Business. Baker blogs daily at Our Values and can be reached at ourvaluesproject@gmail.com or on Facebook.