Posted on
Wed, Jun 26, 2013 : 6 a.m.
Cultural competence: Is Johnny Depp's portrayal of Tonto offensive?
By Wayne Baker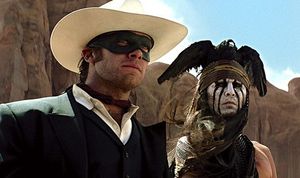 From Dr. Wayne Baker:
Please welcome Joe Grimm, a journalism professor at Michigan State University and editor of a new series of guides to cultural competence. Here's the first book in the MSU series. And—here's Joe Grimm …
Tonto is upstaging the leading man in "The Lone Ranger." The movie opens July 3.
Tonto is played by Johnny Depp, who some accuse of misappropriating Native culture.
Johnny Depp's Tonto is less subservient than the old one, played on TV by Canadian Mohawk First Nations actor Jay Silverheels. For Disney, Tonto has been Depp-ified into a shirtless Indian who wears face paint and a black bird on his head. He still speaks broken English. But Depp's Indian ancestry is slight and unclear.
Disney tried to get the cultural parts right, hiring a Comanche advisor and working with tribes. That is no guarantee of success, of course. Native people are divided. Some embrace Depp's characterization. Some don't.
Natanya Ann Pulley is in the Ph.D. fiction-writing program at the University of Utah and is half Navajo. She wrote "An Open Letter to Johnny Depp's Tonto," published in McSweeney's. Pulley wrote, "My NDN friends love to smile. Love to laugh. And swear. And ham it up. …. I hope there's more to you than the starkness of your white and black striped face. I hope you get an itch to step off that big screen and take a space in the world that doesn't knock us back into shirtless whooping half-animal extras."
Depp told Entertainment Weekly: "I started thinking about Tonto and what could be done in my own small way to—" and Depp hesitated before adding, "Eliminate isn't possible—but reinvent the relationship, to attempt to take some of the ugliness thrown on the Native Americans, not only in The Lone Ranger, but the way Indians were treated throughout the history of cinema, and turn it on its head."
In the end, however, the movie may be raising more old stereotypes than it demolishes. Gossip sites are saying the movie "has prompted Disney to offer a peace-pipe to Indian groups upset by the movie. Apparently nothing soothes the savage soul quite like money." Others reference Indians being "on the warpath." An upcoming guide in the Read the Spirit/Michigan State Journalism School series on cultural competence warns against such references.
When you see The Lone Ranger, how will you judge Depp's portrayal?
Can actors portray other cultures competently? Should they?
Do people get to own the way their culture is portrayed?
YOU CAN HELP (a note from Joe Grimm): I'm especially interested in responses to this third column in this week's series, because our MSU team is working on publishing a volume in our guidebook series about Native Americans. Please, take a moment and share your thoughts on today's questions. You're shaping an important discussion here …
Originally published on OurValues.org.
Wayne Baker is a sociologist on the faculty of the University of Michigan Ross School of Business. Baker blogs daily at Our Values and can be reached at ourvaluesproject@gmail.com or on Facebook.