Posted on
Thu, Nov 22, 2012 : 11 a.m.
Do we really need an app for that? Let's talk about app safety
By Kristin Judge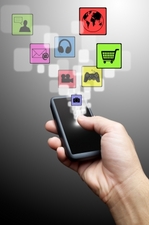 Image courtesy of freedigitalphotos.net
The newest iPhone now has an added line for apps per page. Thank goodness! Not sure how I would have been able to manage without it!
It's hard to believe app management is now an issue for some mobile device users, but we are coming to rely on them more every day. I remember when I used to buy Sudoku books to take on airplanes. Now, I have three different Sudoku apps on my smartphone instead. Less hassle, and less space in my carry-on bag too.
Apps are used to get the news, communicate with friends, check flight times, share photos, get recipes, listen to music, and of course play games. The top 10 grossing apps of all time include seven games. Fruit Ninja and Doodle Jump are of course included. Current average app price is still less than $2, so they are affordable and always at your fingertips. (Apple Store Stats 2012, Impiger Moble)
For me, the lure of the app is the ability to click and use it instantly. That is also the part that concerns me. It is instant gratification, and I don't even feel like I am spending money.
It is easy to see how someone may get into trouble with spending too much time and money on apps. But an even more dangerous risk than losing a little too much time or money on apps is losing our identity or other information if we don't use them safely. Apps are here to stay, so we need to educate ourselves on how to use them securely.
Today's Quick Tips:
(These tips come from the MSISAC.org newsletter archive)
Make sure you actually need an app. Every time you download an app you open yourself to potential vulnerabilities. Only download those apps you deem necessary with the understanding of the risks involved.
Be careful about which app store you use. App stores have different safety standards. Some app stores require apps to be put through rigorous testing first, while other stores accept all apps.
Do research and check the source. If you're downloading an app, it is wise to do research on the application itself, the sponsoring company, and/or the developer's website. Be cautious about downloading new applications, as they may contain coding bugs that haven't yet been addressed. Most app markets post user reviews on the apps that they offer. Check to see if the app needs access to and will report your position via GPS. Will it expose your private and personal information to other users or any potential buyer of that data?
Password-protect your mobile device that runs the apps. Make sure that passwords are not stored in your device. Do not enable the apps to remember your password for your device, and set your device to auto-lock after a few minutes.
Be alert to changes in your mobile device's performance. If you download an app and your device starts performing differently (for example- responding slowly to commands or draining its battery faster), that could be a sign that malicious code is present on the device.
Update all apps when notified.
Follow your organization's policies. If your mobile device is provided as part of your job, be sure to follow the rules and procedures established by your organization.
To get more great information about staying safe online, including access to free monthly newsletters, webcasts and more, visit the Center for Internet Security at www.cisecurity.org. Stay tuned for our next chat!
Kristin Judge is the rxecutive director of the Trusted Purchasing Alliance, a division of the Center for Internet Security. She can be reached at kristin.judge@cisecurity.org.