Posted on
Wed, Oct 24, 2012 : 9:46 a.m.
Election 2012: Which way is the religious vote tilting?
By Wayne Baker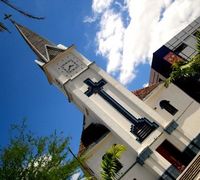 Editor's note: This post is part of a series by Dr. Baker on Our Values about core American values. This week Dr. Baker is discussing election penalties.
Are voters with different religious affiliations drawn to Obama versus Romney? Do they have different religious coalitions behind them?
There are differences, and they are similar to the differences we saw in the Obama-McCain matchup four years ago, according to the new survey by the Public Religion Research Institute.
Obama draws almost all of the support of Black Protestant voters — 97 percent say they back him, compared to only 3 percent who support Romney. Obama also draws heavy support from the religiously unaffiliated. Almost three-quarters of this group (73 percent) support the president; 22 percent are backing the former governor.
In contrast, Romney's chief support comes from white evangelical Protestants. Three-quarters give him their support, compared to 20 percent who support Obama.
The candidates pretty much split the other two religious voting blocks: white mainline Protestants and Catholics. Romney gets a bit more support from each of these groups, but it's a slim margin.
Did you expect these patterns?
What surprised you?
Does religion influence your choice of candidate?
Wayne Baker is a sociologist on the faculty of the University of Michigan Ross School of Business. Baker blogs daily at Our Values and can be reached at ourvaluesproject@gmail.com or on Facebook.