Posted on
Fri, Oct 26, 2012 : 11:26 a.m.
Election 2012: Will 'Unaffiliated' pick the next president?
By Wayne Baker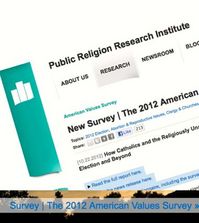 Editor's note: This post is part of a series by Dr. Baker on Our Values about core American values. This week Dr. Baker is discussing the upcoming election.
How will the religiously unaffiliated vote? All week we've considered how religion might affect the outcome of the presidential election: the complex Catholic vote, the preferences of different religious coalitions, how foreign policy is not a big concern, and the possibility of religion penalties (for Romney) versus race penalties (for Obama).
We conclude this week by considering the amorphous category of the religiously unaffiliated: How will they vote?
Americans without a declared religious affiliation are one of the fastest growing religious groups in the country. They often are called "Nones," because they answer polling questions about their religious affiliation with: None.
If these so-called Nones carried the day, what would the outcome be on Nov. 6? It would be Obama. Almost three quarters of the religiously unaffiliated support the president, according to the latest poll by the Public Religion Research Institute. Only 22 percent say they would vote for Romney.
Obama gets even more support from declared atheists and agnostics: 81 percent say they plan to vote for the president.
Religiously unaffiliated men and women overwhelmingly support Obama. More than eight in 10 (84 percent) of religiously unaffiliated women say they will vote for the president, according to the PRRI survey. Two-thirds of religiously unaffiliated men say the same.
One of the main findings I've reported here on ourValues.org is that most Americans want a president who is religious. Obama is. Romney is. So, my main question today is:
What does it mean, if anything, that the religiously unaffiliated so overwhelmingly support the president's re-election?
Wayne Baker is a sociologist on the faculty of the University of Michigan Ross School of Business. Baker blogs daily at Our Values and can be reached at ourvaluesproject@gmail.com or on Facebook.