Posted on
Wed, Jan 9, 2013 : 10:17 a.m.
Emancipation: Did Lincoln's melancholy fuel greatness?
By Wayne Baker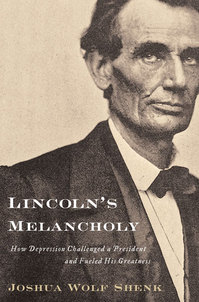 Editor's note: This post is part of a series by Dr. Baker on Our Values about core American values. This week Dr. Baker is discussing Lincoln and the Emancipation Proclamation .
ABRAHAM LINCOLN is known the world over, but not for his lifelong struggle with chronic depression — what was, in his day, called "melancholy." How did his mental struggles play into his life's work?
In his new Lincoln movie, Steven Spielberg clearly shows scenes in which Lincoln seems to struggle with the chronic melancholy that affected his life. But the film underplays the central role of clinical depression in Lincoln's life and how he managed it. Melancholy was the key to his greatness, says Joshua Wolf Shenk in "Lincoln's Melancholy: How Depression Challenged a President and Fueled His Greatness."
Lincoln's bouts of depression were legendary among his confidants. These bouts were "just one thread in a curious fabric of behavior and thought that Lincoln's friends and colleagues called his 'melancholy'," writes Shenk.
"He often wept in public and recited maudlin poetry. He told jokes and stories at odd times — he needed the laughs, he said, for his survival. As a young man he talked of suicide." His friends put him on a suicide watch, a rare reaction in those times. Melancholy was his companion throughout his life. "His law partner William Herndon said, 'His melancholy dripped from his as he walked.'"
Lincoln was able to manage his struggle with depression by harnessing its energy for a high purpose. Indeed, the thought that he had a big role to play — however unclear it was at the time — gave him meaning and direction. The specific meaning of his life became clear.
In 1854, Shenk writes, Lincoln entered the slavery debates "with a vigorous argument that slavery must be restricted as a moral, social, and political wrong." This led, eventually, to the Emancipation Proclamation and the Thirteenth Amendment.
Did you know about Lincoln's struggle with chronic depression?
Do you buy Shenk's argument that it fueled Lincoln's greatness?
Wayne Baker is a sociologist on the faculty of the University of Michigan Ross School of Business. Baker blogs daily at Our Values and can be reached at ourvaluesproject@gmail.com or on Facebook.