Posted on
Fri, Apr 26, 2013 : 8:31 a.m.
Face of Climate Change: Do you believe in climate change?
By Wayne Baker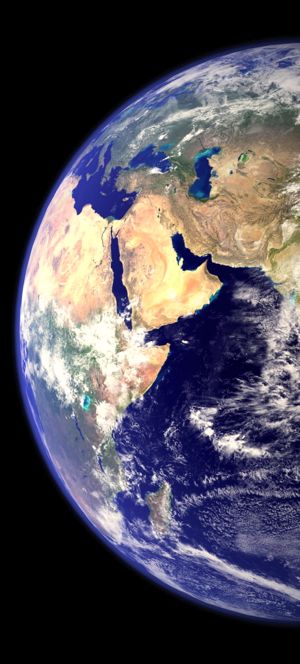 Editor's note: This post is part of a series by Dr. Baker on Our Values about core American values. This week Dr. Baker is discussing the environment.
EARTH DAY has been a major theme all this week — here at OurValues and in lots of communities around the world. The Face of Climate Change is this year's theme, chosen by the Earth Day Network to personalize environmental threats and heroes. Today, I conclude the week with the overarching question: Do you believe climate change is real?
On Monday, I showed one face of climate change — an image I picked from thousands on the Earth Day Network web site. It was a photo of a small boy in Bilaspur, India, whose community is threatened by pollution from a sponge iron plant. On Tuesday, I offered Dr. Seuss' fictional character the Lorax as another face of climate change. My son had watched the DVD in school on Earth Day.
Then I suggested two inanimate objects — a green recycling bin and a napkin dispenser—for two more faces of climate change. The design of each of these can change human behavior, increase recycling, and reduce paper waste.
Today, let's conclude with a core question in this whole effort: Do you believe climate change is real?
The number of Americans who say it is has been rising recently, though the figure is still below the record numbers in 2006 and 2007 when 90 percent of Americans agreed that climate change was happening, according to an Environmental and Energy Study Institute (ESSI) Fact Sheet. Just over a third (38 percent) says that climate change is a very serious threat, with another 46 percent saying that it is a somewhat serious threat.
There's less agreement about the role of human activity as cause of climate change. In 2007, a Gallup poll showed that six of 10 Americans say that human activity is at fault, but since then the figure has wavered around 50 percent or less.
The majority of Americans support regulating power-plant emissions and greater use of clean and renewable energy sources, ESSI reports. But there isn't much support for a carbon tax.
Do you believe in climate change?
Is it caused by human activities?
How far are you willing to go to halt climate change?
Wayne Baker is a sociologist on the faculty of the University of Michigan Ross School of Business. Baker blogs daily at Our Values and can be reached at ourvaluesproject@gmail.com or on Facebook.