Posted on
Wed, Oct 17, 2012 : 11:30 a.m.
Fairness: After the latest round of debates, which candidate do you think envisions a fair America?
By Wayne Baker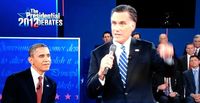 Editor's note: This post is part of a series by Dr. Baker on Our Values about core American values. This week Dr. Baker is discussing fairness.
We started this week trying to clear up the question: What does fairness mean in this turbulent election year? While the vast majority of Americans agree that "fairness" is one of our defining values—we're scratching our heads about this celebrated word, right now.
Evidence of the ambiguity was the second presidential debate last night. I watched with great attention, listening for each candidate's view on fairness. Taxes came up. So did immigration. And gender equality. The candidates interrupted each other. Each directly challenged his opponent. But, when the dust settled, I was left as I often am at the end of these so-called debates: confused about the facts. Sometimes I wish we had a political version of the running commentary provided by Mystery Science Theatre 3000.
How about you? Are you clearer about how each candidate defines "fairness"?
After the debate, I did what post-debate commentators do: I checked facts. The candidates made lots of claims about our current economic inequality. We began to discuss this topic yesterday. The facts show that the wealth of the super-rich has increased, while most Americans have endured a decline. Income inequality in the U.S. sits at record highs.
What's the cause of this yawning chasm? While gender inequality still exists, it's not the cause of the widening gap between rich and poor. Gender inequality has declined in recent decades. It's also not caused by a widening gap between races. This hasn't improved but it hasn't gotten worse. One of the main causes of the gap is tax policy, which has reduced burdens on the rich.
In the debate, the candidates indicated as much by talking a lot about their tax policies. Obama said he would ask the rich to pay more, while Romney said he would not reduce taxes on the rich.
Did the second debate clarify the candidates' views on "fairness"?
Whether you watched or not—are you hoping to see a change in tax policy?
Which candidate envisions a fair America from your point of view?
Wayne Baker is a sociologist on the faculty of the University of Michigan Ross School of Business. Baker blogs daily at Our Values and can be reached at ourvaluesproject@gmail.com or on Facebook.