Posted on
Fri, Jun 7, 2013 : 6 a.m.
Faith and money: In the end, where do you invest in happiness?
By Wayne Baker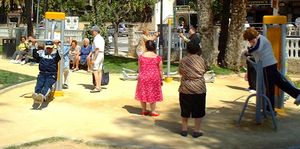 Editor's note: This post is part of a series by Dr. Baker on Our Values about core American values. This week Dr. Baker is discussing faith and money.
Let's get serious.
When we're facing life's final years, what is more likely to make us happy? Seniors choose from a wide array of pursuits these days. Today, I'm asking you to choose between two options: Investing time in a congregation — or investing money in practical financial planning?
The answer might surprise you!
This week, we've discussed several surprising findings about the relationship of faith and money, based on the reporting of veteran journalist David Briggs. His reporting has highlighted: How churchgoers are more delighted with their material possessions than their spiritual lives, the decline of the 'Protestant' work ethic, the fact that many regular churchgoers are stingy contributors to charity, and how the faithful strive for excellence in the workplace.
So, which investment pays off in our choice today: Spiritual or financial?
Turns out: The answer is both, according to research cited by Briggs. Having enough money is helpful, of course, but spiritual investments in religious faith, regular church attendance, and engagement in a congregation also return benefits.
Faith can help older people cope with uncertainty and adversity in the latter stages of life. Health issues, the loss of loved ones, declining mobility, and retirement from work pose serious mental health challenges that an active religious life can help manage.
Regular attendance at services provides older adults with supportive social networks and a sense of belonging. Religious music provides "a greater sense of control and a decrease in death anxiety." Long-term religious experience increases resilience, increases life satisfaction, and decreases depression.
The key here is "long-term experience." Just as there's no quick fix for a weak financial situation, there's no quick fix for a lack of faith. Creating a secure financial future requires long-term planning, saving, and investment. Securing the mental health benefits that come with faith requires long-term investment in religion and religious activities.
Do you have financial and spiritual goals for your golden years?
Does your "retirement portfolio" include faith and money?
Of all the facts about faith and money we've discussed this week, which one is the most surprising?
Wayne Baker is a sociologist on the faculty of the University of Michigan Ross School of Business. Baker blogs daily at Our Values and can be reached at ourvaluesproject@gmail.com or on Facebook.