Posted on
Fri, Dec 16, 2011 : 5:30 p.m.
Fly fishing gifts abound at Ann Arbor-area stores and locally-run websites
By Tom Teague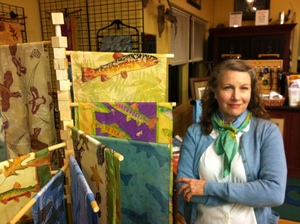 Tom Teague | Contributor
All right, team! We may be in Santa's Red Zone but the clock is running and there are no time-outs before Christmas. Don't panic, I am here with a game plan for your fly fishing enthusiast that will fit all budgets.
Before you do your Christmas victory dance, though, please keep in mind two things:
First, these recommended gifts are available locally, either through locally-owned internet businesses or in stores with four walls and people who are eager to help you.
And second, this list is light on fly fishing gear and apparel. You've already been notified about those anyway, because fly anglers have hinting skills far exceeding those of Ralphie Parker in maintaining guileless plausible deniability.
Remember that sneezing fit at the dinner table two weeks ago? Couldn't you have just sworn that the build up and finale of all those sneezes sounded just like your beloved angler saying "new large arbor reel?" Take the hint.
So here are a few recommendations for those special surprise gifts — the delightful ones that your angler never saw coming. I've included prices where possible.
Trout art
No, not old framed covers of Field and Stream; we're talking fine art.
Start with browsing through the locally owned website, Painted Trout. Lauren Kingsley, a Dexter-based local business owner, fly fisher, and textile designer, has a large collection of hand-made fly-fishing gifts.
Lauren said that the site's wooden fly boxes, priced between $75 and $85, are a seasonal hot seller. The boxes are hand crafted by a Michigan woodworker, who also is one of Lauren's fly fishing buddies. Assuming that they were trophy case items, I was surprised when she told me that anglers carry them onto the stream — she said that, in addition to looking good, the boxes are sturdy and they float.
The Painted Trout also features a collection of handmade silk bandanas and scarves that range from $49 to $210. My wife, Stephanie, who knows from scarves, attested that they are fine works of art and very wearable accessories.
The local trout shop Colton Bay Outfitters, 4844 Jackson Road, is a full-service shop with gear, clothing and accessories for the stream. And art. Owner John Davis is particularly proud of a series of lithographs by Russell Chatham depicting landscapes near and dear to fly fishing hearts.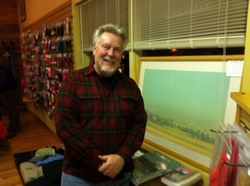 Tom Teague | Contributor
The Chatham lithographs are marked below gallery prices, and sell in the range of $1,000 apiece. They are luminescent pieces — one of them drew me into a fond memory of a large cutthroat running around an upstream bend and taking line so quickly that I was into my backing before I knew it.
Fly tying lessons
John also mentioned that fly tying equipment is selling very well this season — probably because whip finishers, bodkins, hackle pliers, hair stackers and dubbing twisters fit so well into stockings. If you don't know what any of that is, you should sign someone up for a fly tying class. Colton Bay is offering four-night class in 2012 for $100, and each session of Schultz Outfitters' Bar Flies series includes a beginner's table; Bar Flies is $20 a session.
Books
First off, if your angler doesn't have a copy, rush out and buy a copy of the "Flyfisher's Guide to Michigan" by Jim Bedford. It is the most informative and complete study of one state's fly fishing opportunities that I've ever read. The book was updated in 2007; I recently saw copies priced under $30.
A nice companion book is "Seasons on the Au Sable" by the late Rusty Gates. The book takes you from the first mayfly hatch of April through spring, summer, winter river scouting and those promising March rises. Rusty, who died in 2009, was operator of Gates Au Sable Lodge near Grayling, a destination for anglers from around the world.The lodge is still open, operated by Julie Gates and Josh Greenberg. The book is hard to find now, so you may have to search at local used books stores.
The Lawn Trout
I've already extolled the virtues of the Lawn Trout in a previous column. Let me just add that every sunny day since I first tried it in November, I have kicked myself for putting it on my Christmas list and not purchasing it outright. It's priced at $20 on the website.
Photo by Mike Mouradian
There's a lot more that I can't cover here: Days with fishing guides, new line, apparel. Have fun whether you're shopping for your angler or trying to figure out how to say "fly tying lessons' so that it sounds like an innocent cough.
Send me an email if you are tying unique flies, involved in activities related to local fly fishing, or even have a great Michigan fly fishing story to share.
Tom Teague is a local consultant, writer and fly angler posting every other Friday — more often if there's news to share — in the Lifestyles section of annarbor.com. You may email him at tom@tomteague.com.