Posted on
Mon, Oct 31, 2011 : 8:30 a.m.
Four ways to make a healthful Halloween
By Delfina Bonilla-Cassel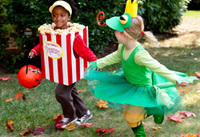 Photo courtsey of www.kaboose.com
Let's face it. Of all the holidays we celebrate, Halloween can seem like a nightmare for the health conscious. There's nothing like gorging on candy, caramel and crystal-coated snacks to get your insulin levels surging and tempting you toward a mad sugar addiction. It makes life after Halloween seem kind of bleak.
Yet, Halloween really doesn't have to be quite so grim (no pun intended). Below is a list of four ways to put a positive spin on this whole thing:
1) Map out your Trick-Or-Treat route

Whether you are a parent tagging along behind your little monsters or able to trick-or-treat by yourself, take five minutes to hop on Google Maps and plan out your route, so that it covers about a three mile distance. That's about the equivalent of a solid 60 minutes worth or trick-or-treating (depending on your pace of course).
If you have really little children, pack a stroller and pound the rest of that pavement when the kiddies have had enough. This does not give anyone free reign to devour an entire pillow-case full of candy, but it does provide the opportunity to un-hunch and un-crunch yourself from a day's worth of computer-ing, take in some fresh-fall air and connect with your neighbors. And, for those participating in work-related walking competitions, this is a perfect time to put on your pedometer and track a few more steps towards that goal. Every step counts!

2) Carve a pumpkin

Anyone who's ever carved a pumpkin before knows that the majority of time, it's akin to losing at an arm-wrestling match. Depending on the size of your Jack or Jane-o-lantern, it can take some serious arm strength and endurance to smash that sucker!
Put down the dumbbells and carve three pumpkins instead (maybe add in a few push-ups or side planks to spice it up). It's an enjoyable variation to any upper body workout. When the carving's done, get rid of the pumpkin guts, but save the seeds for roasting. There are plenty of simple recipes on line, but here's an easy one I ran across. The seeds make a great alternative to munching on candy and can easily jazz up a variety of fall-season soups and salads.

3) Act out your costume!

Halloween is the one night that we can all dress like fools and totally get away with it. With that said, whether you are dressed as a wolf, a whale or a warlock, show some dignity and pay homage to your respective costume's true character. Run, jump, swim, fly, crawl, sprint, leap, limp, climb, and hop your way from house to house. No one can make fun of you, especially since everyone will look equally as Kooky as you do! Not to mention, if you make even small effort, you've got a built in Halloween workout!
4) Hand out a trick instead of a treat

The word "treat" generally correlates with the word "sweet," conjuring up squeals of excitement and laughter. Candy is not the only inexpensive item that beckons a child's (or a grown person's) smile. Bouncy balls anyone?
I say, live a little on the edge. Hand out something other than candy to your trick-or-treaters. Not only will you help ward off candy catered cavities, you will also demonstrate to your family (and to others) that treats and rewards need not always present themselves in the form of food (especially not the sugar coated and colored, sour, chewy kid-shaped kind!).
Happy (alternative) Halloween-ing!
Delfina Bonilla-Cassel is the founder of EnForma Fit LLC and an ACE Certified Personal Trainer and yoga instructor. Her motto is "Shaping the best you, one workout at a time." Visit her website or blog, or find her on Facebook, Twitter or LinkedIn.