Posted on
Mon, Apr 15, 2013 : 9:40 a.m.
Global fears: Is North Korea our enemy?
By Wayne Baker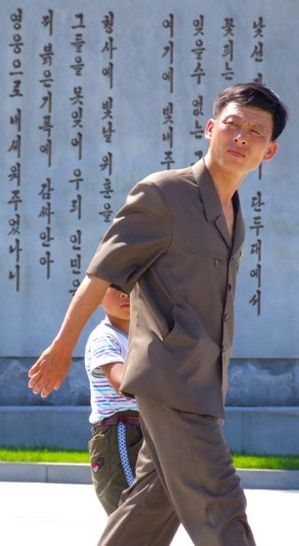 Editor's note: This post is part of a series by Dr. Baker on Our Values about core American values. This week Dr. Baker is discussing global enemies.
What world events keep you up at night? This week, we will look at the ever-changing array of "enemies" we face in the world. I deliberately use quotes around the e-word, because politicians and the news media keep changing the list of global hot spots that they indicate we should fear.
Today, let's start with what apparently is the most threatening hot spot at the moment: North Korea. Please take a moment to leave a comment today. We want to know: How seriously do you take North Korea's nuclear threats? What specific news events about North Korea caught your attention? Did they make you think of North Korea as an enemy of the United States?
When I was in Korea two months ago, South Koreans seemed more worried about Asian Dust than their northern neighbors. I wonder how much that's changed, given that North Korean has amped up the threats and rhetoric. Park Geun-hye, the new president of South Korean, is on record stating that she takes the threats very seriously and has authorized immediate responses to attacks.
Right now, a majority of Americans (56 percent) take North Korea's nuclear threats against the U.S. very seriously, according to a new poll by the Pew Research Center. Another 27 percent take these threats somewhat seriously. Only 14 percent don't take the threats seriously.
What do we fear? Our nation is almost equally divided with 47 percent of us saying that North Korea's leaders are willing to push the button and follow through on their threats. The same percentage thinks that North Korea is actually capable to launching a nuclear missile that would reach our shores.
But, this is interesting. Only about 1 in 4 Americans (28 percent) think that North Korea is willing and capable of following through on its threats of a nuclear attack.
Most analysts think that Pyongyang's saber rattling results from a combination of factors: the new, young leader's desire to show that he is tough and in charge, anger over U.N. sanctions against North Korea, and a ploy to wrangle concessions.
Is North Korea an enemy?
How do you see North Korea affecting your life, if at all?
Is there another country you worry more about?
Wayne Baker is a sociologist on the faculty of the University of Michigan Ross School of Business. Baker blogs daily at Our Values and can be reached at ourvaluesproject@gmail.com or on Facebook.