OUR VALUES
COLUMN:

Hedonism America: Has selfishness won?

Posted on Fri, Jul 6, 2012 : 10:56 a.m.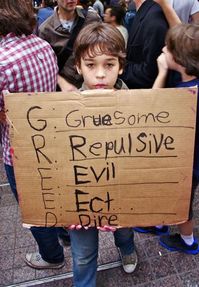 Editor's note: This post is part of a series by Dr. Baker on Our Values about core American values. This week Dr. Baker is discussing hedonism in America.
Is there a downside to liberty?
There is, writes Kurt Anderson in a New York Times op-ed column — and it's what we've been talking about all week: hedonism.
Hedonism, the pursuit of pleasure and self-gratification, shows itself in the propensity to spoil children, overeat and overindulge on holidays. But it doesn't result in long vacations, probably because American employers won't grant them without European-style government mandates.
Anderson finds the roots of hedonism in a "radical individualism" that now reigns supreme in our nation. Individualism competes with universalism — concerns for community and the common good. This has always been true, and our nation has been through cycles where one had the upper hand, followed by the other, only to have the pattern repeated again. But now, Anderson concludes, there's a victor: "Selfishness won."
Are we teaching our children to value selfishness? We may be. Just over a third (38 percent) of American adults say that "unselfishness" is an important quality to teach children, according to the World Values Surveys. In Great Britain, Australia, France, and Japan, a clear majority say that unselfishness is an important value for children to learn.
But America isn't at the bottom. In the Netherlands, only one in four (25 percent) regard unselfishness as an important child quality, and the figures are even lower in Russia (20 percent) and Germany (7 percent). China and India are about the same as the U.S.
So, America doesn't have a monopoly on selfishness. But there's no denying that we live in a culture that prizes consumption, monetary success, and hedonism. In fact, our economy depends on and it.
Do you think selfishness has won the day?
Do Americans suffer from extreme selfishness?
Do we teach our children to be selfish?
Dr. Wayne E. Baker is a sociologist on the faculty of the University of Michigan Ross School of Business. Baker blogs daily at Our Values and can be reached at ourvaluesproject@gmail.com or on Facebook.