Posted on
Wed, Mar 20, 2013 : 6 a.m.
Human development: Should we be flunking?
By Wayne Baker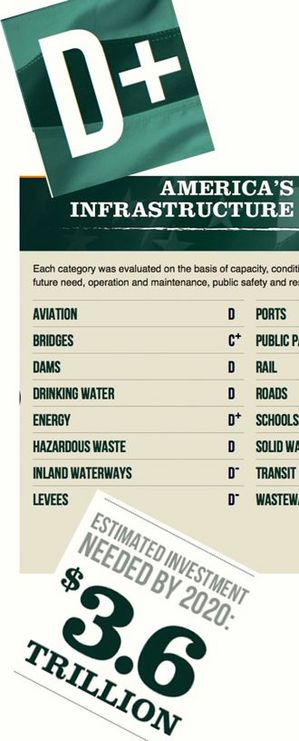 Editor's note: This post is part of a series by Dr. Baker on Our Values about core American values. This week Dr. Baker is discussing the Global South.
Welcome to America's infrastructure report card! The bad news is: We're still flunking.
If your child came home with a GPA of D+ on a report card, what would you do?
Every four years, the American Society of Civil Engineers makes a comprehensive assessment of the nation's infrastructure — dams, drinking water, waste, bridges, aviation, ports, rail, roads, public parks, schools, and energy. The ASCE considers capacity, condition, funding, operation, maintenance, future needs, and public safety.
D+ is the cumulative GPA just given by the ASCE in its 2013 Report Card.
The price tag to fix things by 2020? $3.6 trillion. Obama just announced his plans for an immediate investment of $50 billion. This will help, but it's a drop in the bucket.
This week on OurValues.org we are looking at the dramatic rise of the global South. So, contrast our grade with the actions taken by the proactive governments in the Global South. As we've discussed this week, Brazil, China, India, and others south of the equator are growing at an unprecedented rate. None could sustain this rapid growth without "impressive levels of public investment" in infrastructure, as well as health and education, according to the United Nations' 2013 Human Development report.
Are you worried by our D+ grade?
Can we learn from the Global South?
Do you support higher investment in infrastructure?
Wayne Baker is a sociologist on the faculty of the University of Michigan Ross School of Business. Baker blogs daily at Our Values and can be reached at ourvaluesproject@gmail.com or on Facebook.