Posted on
Fri, Dec 9, 2011 : 3:50 p.m.
Local fly fishing guide creates the Single-Fly-Cray and a low-budget gift for your fly-tier
By Tom Teague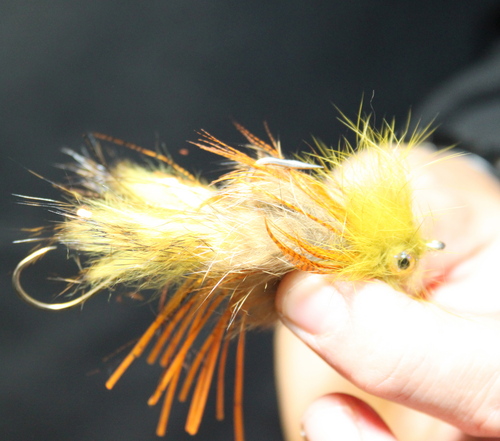 Tom Teague | Contributor
In the interest of full disclosure, the flies that I tie mostly resemble something you would remove from a dryer lint trap. Although I catch
fish
on them, I can't help but wonder if I am catching the really inattentive fish — the ones who haven't yet learned the five aquatic food groups: insects, crustaceans, other fish, Wiggly Things and the occasional small clumsy mammal.
So, I envy those who tie flies that actually look like the intended pattern. When I visited Mike Schultz — the Dexter-based guide and owner of Schultz Outfitters — I was more than a little jealous of the Single Fly Crayfish pattern that he tied.
Mike is the creator of the SFC. The fly performed well at the Huron River Single Fly contest this past summer where he brought more than 30 fish to the net using the pattern during the six-hour tournament. Mike was quick to add that Schultz Outfitters co-sponsored the contest with the Huron River Watershed Council and that he and the guides fished in a special non-prize category.
The SFC is a multi-species fly that, according to Mike, fishes "extremely well from mid June through October." He explained that fish are particularly attracted to crayfish after they have spawned and molted in late May or early June. Smallmouth bass aggressively hit the crayfish patterns through October when the crustacean develop hard shells and are difficult for fish to digest.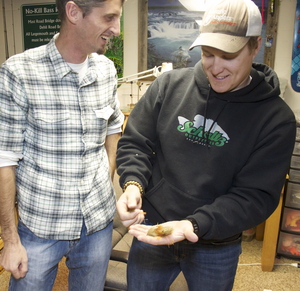 Tom Teague | Contributor
He has caught a range of fish species using the pattern, preferring to fish the fly on a 7-weight rod rigged with a clear tipped intermediate line to get the cray on the bottom. He strips line in to give the fly some movement.
Mike said that he ties the fly in three different color combinations to match "water clarity and the bottom color and structure of different streams." There is a recipe for the fly at the end of the column.
Three of Mike's flies appear in the current Orvis catalog — Schultzy's Steech, Schultzy's ShrimpISH, and Schultzy's Flesh Nug. Next year Orvis will add three more, and he's hopeful that the Single Fly Cray will be included in 2013.
In case you are wondering, crayfish, crawfish and crawdad are regional variants on the same word describing the same type of crustacean. I always love to see a crayfish scuttling across a stream bed — it's a sure sign of a healthy stream.
If you are new to the sport or are thinking about taking it up: Fly fishing teachers usually begin with fly patterns that mimic a phase in the lives of aquatic insects such as caddis, may flies or stone flies. But fish are opportunistic eaters, and, as you gain confidence with casting heavier flies, you will want to diversify your fly collection to include crustaceans such as the Single Fly Crayfish; terrestrials such as beetles, ants, and grasshoppers; streamers that resemble small fish; a class of flies I call "Wiggly Things" that includes worms and leeches; and — depending on where you fish and for what species — even a small mammal pattern such as a vole.
Room at the Inn: A no- or low-budget gift for your fly tier
Back to Mike Schultz for a moment: He ties flies in a well-outfitted basement space, recently displaced from an upstairs room that he turned into a nursery. It got me thinking of an inexpensive gift that will be appreciated by any fly-tier: A dedicated space.
If you decide to encourage a budding or experienced tier at your home, give him or her a spot where he or she can leave the materials out and not have to re-pack the tools, feathers, fur, glue and thread every night before dinner. The space should accommodate a small desk, and should be warm, ventilated, well-lighted, and — this is important — inaccessible to the family cat. If your budget allows, add a couple of inexpensive drawer stacks and a bright desk lamp.
Recipe for the Single-Fly Crayfish
Hook: Daiichi 2546 in sizes 4-1/0
Weight: Red Dumbell Eyes
Stinger Loop: 30-lb Fireline
Flash: Gold or Copper Flashabou Splash
Legs: Orange Hot Tipped Brown or Olive Rubber Legs
Claws: Rabbit Strips
Body: wrapped Rabbit
Collar: Mallard Flank
Head: Rabbit spun in a dubbing loop and wrapped
Optional: Add a stinger hook to the loop if desired

If you're tying unique flies that you'd like to share with others in the area, if you have announcements about activities related to local fly fishing or if you have a great Michigan fly fishing story, please send me a note at tom@tomteague.com. Columns will be published every other week and will have a focus on fly fishing in Michigan and regional waters.

Tom Teague is a local consultant, writer and fly angler posting every other Friday in the Lifestyles section of annarbor.com. You may email him at tom@tomteague.com.