Posted on
Thu, May 24, 2012 : 11:12 a.m.
Internet scams of 2011, part 1: FBI impersonation email scam
By Kristin Judge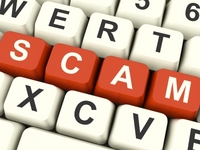 www.freedigitalphotos.net
When a person's house is on fire or an intruder is trying to break in, they know to call 911. We are so fortunate to have dispatchers and public safety officers to respond in an emergency. However, if someone falls victim to a
cyber crime
, calling a local police station is not always the answer.
Americans are also fortunate to have a national resource like the Internet Crime Complaint Center (IC3) to contact if they are affected by Internet crime. IC3 is a partnership between the FBI and National White Collar Crime Center that started in 2000, "To serve as a vehicle to receive, develop and refer criminal complaints regarding the rapidly expanding arena of cyber crime."
The information they gather also gives them the ability to understand the most common scams and create public service campaigns designed to educate the public.
IC3 just published the 2011 Internet Crime Report that highlights the more than 300,000 complaints that were processed by the organization in 2011. The cost to the victims who contact them was almost a half a billion dollars. Yes, that's billion with a "B." Internet crime is not only costing Americans time and causing emotional stress; it is costing us a lot of money.
It is no surprise that the number of complaints received by IC3 has grown significantly since 2000. First, more people are finding out about their services. I'm hoping this column can help continue that trend. Second and unfortunately, their business is also growing, because Internet crime is growing.
The IC3 report covers with great detail five of the most common and most costly scams. In this first of a five part series, I am going to write about the FBI Impersonation Email Scam. May is National Older Americans Month, and this scam affected Americans over age 60 more frequently than the other top four scams.
The FBI Impersonation Email Scam can take a few different forms, but it always appears to come from the FBI by using fake addresses, logos and photos of Federal Officers. The FBI Impersonation Emails have had the following "from" addresses in an attempt to make them appear legitimate: police@fbi.gov, fbi@fbi.gov, officer@fbi.gov or web@fbi.gov.
In one version of the scam, a person may receive an email telling them that the FBI has evidence that they have been on more than 40 illegal sites. The email would instruct them to answer questions in an attachment. That attachment contains a virus. Once the attachment is clicked, the person's computer is infected. These viruses can operate on a computer without the user knowing and give criminals access to personal and financial information that can be exploited for monetary gain.
These scams have been around for over seven years already with the first warnings issued in 2005. On Jan. 15, 2008, the FBI National Press Office put out a press release titled, "Internet Alert: Scammers Sending Fake FBI E-mails Seeking Personal Information." In this alert, the email schemes are described as covering "…a range from threat and extortion e-mails, website monitoring containing malicious computer program attachments (malware), and online auction scams."
Today, the FBI Scams are the most widely reported according to IC3. In 2011, almost 2,800 Americans over the age of 60 reported falling victim to a similar scam with a result of $1.3 million dollars in losses. It is important to remember that these numbers represent just the people who contacted IC3. It is easy to assume the true number of people affected is far greater.
Our best defense is education. Please share this article with your friends, family, and coworkers today.
Read about other Internet Scams on the FBI Site at:
http://www.fbi.gov/scams-safety/e-scams
Today's Quick Tips:
If you get an email that appears to be from the FBI, state police, IRS or other similar agencies, delete it immediately. If a government agency wants to contact you, sending an unsolicited email is not the way they will do it!
In commemoration of National Older Americans Month, the "Stop.Think.Connect." Campaign offers the following tips for enjoying the benefits of the Internet while staying safe from cyber fraud and predators:
1) Don't judge a book by its cover. Cyber criminals hide behind the anonymity of the Internet. Don't communicate or reveal any personal information to strangers online.
2) Look before you leap. Don't enter contests, join clubs, open attachments or share your personal information for any reason, unless you know you are on a reputable website.
3) All that glitters is not gold. Be wary of emails offering "free" gifts, prizes or vacations.
4) A chain is only as strong as its weakest link. Once we understand the dangers we face online, we need to tell other people who might not be as cyber savvy.
To get more great information about staying safe online, including access to free monthly newsletters, webcasts and more, visit the Center for Internet Security at www.cisecurity.org. Stay tuned for our next chat!
Kristin Judge is the Executive Director of the Trusted Purchasing Alliance, a division of the Center for Internet Security. She can be reached at kristin.judge@cisecurity.org.