Quick tips to keep you safe online with Kristin Judge, Center for Internet Security
Column:

Internet Scams of 2011, part 4: Loan intimidation scams

Posted on Thu, Jul 5, 2012 : 9:54 a.m.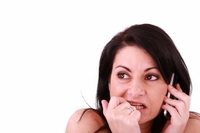 www.freedigitalphotos.net
This is the fourth in a series of posts on Internet scams. The first three parts were FBI impersonation scams, work-from-home scams, and romance scams.
My last three columns covered common Internet scams that are costing Americans millions of dollars. We need to have discussions with friends, family and coworkers about online scams. The money being lost is an economic issue, and the victimization is a quality of life issue in our communities.
The only way we can combat these attacks is to educate people on safe practices. This column is attempting to start that conversation. Take time to share this series on your social media accounts and with people you care about. Together we can make an impact.
This week we are looking at the third most reported scam of 2011. Almost 10,000 loan-intimidation scams were reported to the Internet Crime Complaint Center in 2011, costing victims more than $8 million. On average, that was $22,000 lost per day. The loan intimidation scam varies slightly from the last three scams I wrote about, because this scam may start with an online transaction but involves the victim being approached by phone.
According to the IC3 report, "Victims often relay that they had completed online applications for other loans or credit cards before the calls began."
IC3 is a partnership between the FBI and National White Collar Crime Center that started in 2000, "To serve as a vehicle to receive, develop and refer criminal complaints regarding the rapidly expanding arena of cyber crime." The information they gather also gives them the ability to understand the most common scams and create public service campaigns designed to educate the public.
According to the IC3 data, more than 50 percent of loan intimidation scam victims are under the age of 40, although anyone can be at risk. Younger people may be more likely to be applying for loans or credit cards online, causing that number to be over 50 percent.
Someone who is being scammed will receive a call from what appears to be a reputable company or government agency stating that the victim is delinquent on a payday loan. The scammer will have correct social security numbers, date of birth, employment information and more, helping them appear legitimate.
The scammers will call home, work and even relatives threatening legal action, arrests and sometimes even physical violence. If you know you are not delinquent on a loan, don't be intimidated. Certainly do not send the caller money. Following one rule would help so many victims of these Internet scams: "Don't send money to someone you have never met."
To report a loan intimidation scam, visit the Internet Crime Complaint Center at www.ic3.gov.
Today's Quick Tips:
(These come directly from an FBI alert dated 2/21/12 on www.fbi.gov)
If you are contacted by someone who is trying to collect a debt that you do not owe, you should:
Contact your local law enforcement agencies if you feel you are in immediate danger.
Contact your bank(s) and credit card companies.
Contact the three major credit bureaus and request an alert be put on your file.
If you have received a legitimate loan and want to verify that you do not have any outstanding obligation, contact the loan company directly.
File a complaint at www.IC3.gov.

To get more great information about staying safe online, including access to free monthly newsletters, webcasts and more, visit the Center for Internet Security at www.cisecurity.org. Stay tuned for our next chat!