Posted on
Fri, Oct 12, 2012 : 9:19 a.m.
Kid consumers: Could tougher laws protect our children?
By Wayne Baker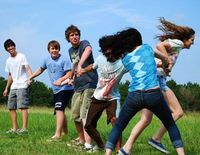 Editor's note: This post is part of a series by Dr. Baker on Our Values about core American values. This week Dr. Baker is discussing kids and consumerism.
Kids influence over $1 trillion dollars in family spending each year, making them targets for sophisticated advertising and marketing efforts. This week we've discussed how parents are consumer role models, whether there's such a thing as "good" marketing to kids, commercial advertising at schools, and a recent case of invasion of kids' online privacy.
Do we need tougher laws to protect our children from the onslaught?
Let's address that question by focusing on the efficacy of COPAA, the Children's Online Privacy Protection Act. It was a violation of this act that got the fan websites for pop stars Justin Beiber, Rhianna and others in trouble for illegally collecting personal data on kids.
That sounds like a victory, right? Well, the law was made in 1998, and it might not be enough to deal with all the new technologies and strategies now in play.
Here's how Public Citizen put it in their online petition—just launched this week—to have the Federal Trade Commission beef up protections for kids:
Today, corporations are collecting children's data through invasive "behavioral" tracking. Using these techniques, marketers track kids' behavior by leaving "invisible" cookies and other identifiers. Companies also collect children's location data when they use mobile devices. With this data, marketers can directly target kids with tailored ads all around the Internet.
The Federal Trade Commission is currently in the process of considering new rules for COPAA. As you can imagine, there is considerable opposition from commercial interests. Hence, Public Citizen joined other consumer groups and submitted comments to the FTC. (You can read these comments here.)
Have you or your kids experienced an online violation of privacy?
Do we need tougher laws to protect our kids?
Should the FTC toughen the Children's Online Privacy Protection Act?
Wayne Baker is a sociologist on the faculty of the University of Michigan Ross School of Business. Baker blogs daily at Our Values and can be reached at ourvaluesproject@gmail.com or on Facebook.