Posted on
Wed, Oct 10, 2012 : 11:32 a.m.
Kid consumers: Is school commercialism on the level?
By Wayne Baker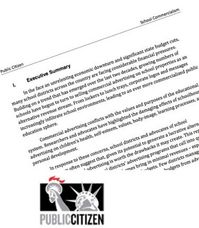 Editor's note: This post is part of a series by Dr. Baker on Our Values about core American values. This week Dr. Baker is discussing kids and consumerism.
Ever notice the ads on the white plastic trays we use at airport security lines? The ones that make me chuckle are the ads for Zappos, the online shoe and apparel store. It's a little ironic to place my shoes on top of them.
How about ads in schools? It's a great place for ads—if you focus on the marketing potential. Kids are there five days a week, cooped up in one place for the better part of each day. Cash-starved schools can get a cut of the advertising dollars. Sounds good, right?
Some schools have opened themselves to commercial advertising to kids, according to a new report by Public Citizen, a national nonprofit that represents consumer interests. Examples include commercial sponsorship of school programs, appropriation of space on school property, sponsorship of educational materials, and digital marketing.
Public Citizen says in its report that the aim of these advertisers is to "saturate school communities — including children, parents, and employees — with their messages." Once some school districts opened their doors, "advertisers have left virtually no school spaces untouched in their pursuit of profits." Ads can appear on lockers, cafeteria lunch trays, television screens, scoreboards — even on report cards that are sent home.
Buses are adorned with commercial ads. Schools have sold naming rights to their benefactors.
Have the financial returns to schools made it all worthwhile? Has the money rolled in? The financial gains to schools aren't that rosy after all. Typically, the added revenue is only a fraction of a percent of the school's total operating budget. The organizations that really benefit, aside from the advertisers themselves, are the middlemen. These are the organizations that represent commercial interests and make the arrangements with the schools. They get a large share of the advertising revenues.
Click here to download a complete copy of the report in a PDF file.
Are there commercial ads in your local schools?
How do you feel about ads placed in schools?
Do the ends (money for schools) justify the means (commercial ads)?
Wayne Baker is a sociologist on the faculty of the University of Michigan Ross School of Business. Baker blogs daily at Our Values and can be reached at ourvaluesproject@gmail.com or on Facebook.