Posted on
Fri, Aug 30, 2013 : 5 a.m.
King's dream: How well do blacks and whites get along?
By Wayne Baker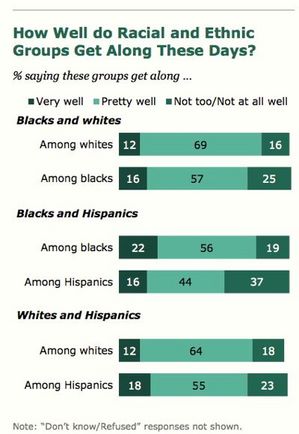 Editor's note: This post is part of a series by Dr. Baker on Our Values about core American values. This week Dr. Baker is discussing King's dream.
Respect for people of different races is one of the 10 core values that nearly all Americans hold dear. But:
How well do blacks and whites actually get along
?
This week, we've used the occasion of the 50th anniversary of the March on Washington and Martin Luther King's "I Have a Dream" speech to reflect on race relations since that time. We've considered Obama's remarks about our unfinished business, racial differences in perceptions of fair treatment of blacks, assessments of how far we have come and how far we have to go, and black-white disparities in income, wealth and homeownership.
So far, it's been a story of divides, differences, and difficulties among some areas of progress.
When it comes to respect, however, it's a different story. A large majority of blacks (73 percent) say that whites and blacks get along very well (16 percent) or pretty well (57 percent), according to the Pew Research Center poll we've consulted all week. However, about one of four blacks say that whites and blacks don't get along well.
Whites tend to see white-black relations in a similar way. About eight of 10 whites (81 percent) say that whites and blacks get along well (12 percent) or pretty well (69 percent). About 16 percent say blacks and whites don't get along well.
Another indicator of respect is acceptance of black-white marriage. Acceptance is at an all-time high, according to a Gallup poll. "Americans are approaching unanimity in their views of marriages between blacks and whites," Gallup researchers says " with 86 percent now approving of such unions." Whites and blacks similarly approve of marriage between blacks and whites. For example, 96 percent of blacks and 84% of white people approve of black-white unions.
Of course there have been other positive trends and improvements as well. Pew's FactTank has compiled several of them here.
Are you surprised by these trends in black-white relations?
What would you say is the area of greatest progress in achieving King's dream of racial equality?
Wayne Baker is a sociologist on the faculty of the University of Michigan Ross School of Business. Baker blogs daily at Our Values and can be reached at ourvaluesproject@gmail.com or on Facebook.