Posted on
Thu, Aug 2, 2012 : 10:01 a.m.
Our Daily Bread: What's the simplest food you love?
By Wayne Baker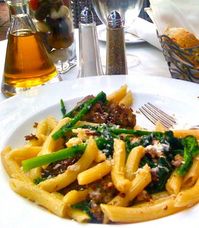 This is Mezzogiorno (or simply Mezzo), the simple, rustic dish that many people love. Photo courtesy of Kathy Macdonald.
Editor's note: This post is part of a series by Dr. Baker on Our Values about core American values. Dr. Wayne Baker welcomes guest columnist Kathy Macdonald, head of the Macdonald Group.
All this week, we're talking about Our Daily Bread, the foods that define us as people and as communities.
Today, let's stop and think of the simplicity of that phrase, "Our Daily Bread" — just bread, so simple. Sometimes, the simplest foods are the ones we love best.
For more than 20 years, my husband had a restaurant in downtown Ann Arbor. It was called the Bella Ciao. It was nestled in an old brick storefront on East Liberty. Although the menu changed monthly to take advantage of seasonal products, there was one menu item that the patrons refused to let him remove. When he occasionally did, they ordered it anyway.
Its name on the menu was Mezzogiorno. It was better known as Mezzo. It was a simple rustic dish from south of Rome made of penne pasta, homemade sausage, and fresh rapini (broccolini will do) tossed in a dish with a bit of olive oil and hot peppers. The dish was simple. The dish was delicious.
Former wait staff and Michigan alumni who had moved across country to get on with their lives would return and order a Mezzo. There is a beauty in a dish that has so few ingredients. Perhaps that was its secret. It was authentic. Real. Wonderful.
Today there is a lot of talk about foods that are simple, local and natural. Families like the Goodwins in California have become national advocates for exploring the values and the spirituality behind this one idea. Millions of other families are seeking out their local Farmer's Markets.
So, what's the simplest food you love?
If you know, describe how your favorite food is made.
What do you love about it? Aroma? Taste? Texture?