OUR VALUES
COLUMN:

Pay It Forward: When a stranger came to our rescue

Posted on Mon, Aug 6, 2012 : 11:05 a.m.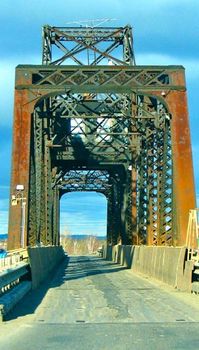 Editor's note: This post is part of a series by Dr. Baker on Our Values about core American values. Dr. Wayne Baker is back! And in one piece! You'll enjoy this Great Lakes story …
Did a stranger ever come to your rescue?
It happened to my family just two weeks ago. Part of the story took place around Little Current Swing Bridge in Canada, a historic span that marks its centennial in 2013. (Note on photos: The Swing Bridge is closed, at right, for cars and trucks — and is open, above, for marine traffic.)
Here's our true story ...
My family and I sailed our Mariner 36 to a remote wilderness anchorage in Canada's North Channel. It took us four days to get there and lots of tricky navigation. It was worth it. The anchorage was isolated and beautiful, the fish plentiful. (If you want see where we were, here's the position: N 46 4.513, W 81 32.296. You can find it in Google Earth.)
We stayed one day too many. When I tried to start our auxiliary diesel engine, I got the dreaded sound: click. Dead batteries. Sailing out wasn't an option due to the narrow and convoluted channels we had to navigate and all the underwater hazards.
I worried about my family. What were we doing to do? Then I remembered Roy and his Cruisers Net broadcasts. Roy is a ham radio operator in Little Current, a small town in the North Channel. Every morning at 9 a.m., he broadcasts an hour-long program that mariners listen to on the boat's marine radio. I had listened to a few shows and I recalled that he starts each one by asking if there are any emergencies, medical situations or urgent matters.
Well, we had one! My batteries had enough energy to operate the marine radio, so I called in. My signal was weak and another ham radio operator picked it up and relayed it to Roy. Roy put the announcement on the air and gave our location.
We didn't hear any replies. But later that morning, Serenade — another sailboat — came to our rescue. Serenade had anchored the night before in a location several miles south of ours. The skipper had a spare battery. He brought it to our boat, wired it into my system, and got the engine started. He stayed with us until my engine re-charged the batteries.
We were so grateful, and we expressed it to him. Then, he was off and we motored all the way back to Little Current.
Now, I haven't told you the best part of the story. The morning after arriving in Little Current, we introduced ourselves to Roy as the family his broadcast had helped to rescue. He was delighted to see us, because he didn't know how things had worked out for us. I asked to be on his show and broadcast our thanks to Serenade. He was happy to let us do it.
Then another boater called in with a medical crisis. One of the crew was severely allergic to bees and had forgotten his Epi-Pen. One bee sting could mean anaphylactic shock and death. (An Epi-Pen is a handheld autoinjector that contains adrenaline, which is used to treat or prevent anaphylaxis.)
Roy made the announcement on the air and asked if any boaters had a spare one. He looked up and our hands were in the air. Our son has a severe peanut allergy and we always have a spare Epi-Pen. We left it with Roy, who gave it to the boater when he arrived in Little Current.
So, every day, Roy is out there connecting helpful people …
Serenade went out of their way to rescue us …
And, we were able to pay it forward and possibly prevent a death.
Here's what I'd really like to hear from you today:
Why do you think Serenade came to our rescue?
Why did we feel especially motivated to help someone else?
What's your story about the kindness of strangers?
Dr. Wayne E. Baker is a sociologist on the faculty of the University of Michigan Ross School of Business. Baker blogs daily at Our Values and can be reached at ourvaluesproject@gmail.com or on Facebook.