Posted on
Thu, Mar 1, 2012 : 10 a.m.
Protecting your mobile phone: Password locks and GPS tracking apps can help
By Kristin Judge
My sister lived in Michigan when I was married in Arizona. She was eight months pregnant on my wedding day, so she could not fly out to be a part of my special day.
Luckily, we have a father who loves the latest gadget. At that time, he owned one of the first cellular phones. It was the Motorola DynaTAC. Look it up if you want a good laugh. As I walked down the aisle, I could hear my father whispering to my sister as he held the phone out facing the altar during the ceremony so she could hear me get married. It made for a great wedding video and photos.
In the 90s, a cellular phone was just a phone. The phone of 2012 is now a pocket-sized computer. The information you have access to from your phone is a wonderful thing.
I play online games, love my airline app as much as the next person and check my email at least 10 times a day on my phone. It would be hard to find a person who doesn't feel like his or her cell phone is a significant tool he or she uses multiple times a day. Because of the information on these devices, and their computing power, we need to ensure we protect them.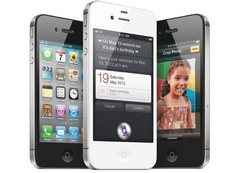 Photo courtesy of Apple
Locking your phone is a must to keep unauthorized eyes from accessing your information. Locking most phones takes two steps.
An auto-lock feature sets the time allowed for your phone to be inactive before it requires a passcode to get back in. My personal phone allows settings for one to five minutes or never. I chose one minute to be cautious.
The next step is the actual passcode setting. Many newer phones allow passcodes to be eight characters with numbers and letters. The best-practice rules for passcodes on phones are the same for your computer… long and strong.
Most people have a "sign in" lock on their computer at work and at home. This same layer of security should be applied to our cell phones as well. Treat your phone as you do your laptop or PC… lock it up!
Another safeguard you can use to protect your phone is a GPS tracking application, which will assist in locating your phone if you lose it. On our last family trip, our son lost his new phone in a movie theater. As soon as we noticed, we went back to the theater, but it was gone. If we had installed a GPS tracking app, our chances of recovering the phone would have increased dramatically.
Plans are available through all the major carriers for iPhone, Blackberry and Android. The prices vary based on the carrier and the number of phones in the plan. Be aware, however, that any time you download an application, you open yourself to potential vulnerabilities, so be sure to research your options carefully.
It is hard to find data on the number of cell phones lost or stolen, and the numbers vary, but just speaking to my friend who works in a library, it is easy to understand the scope of the problem. She told me that at least one phone is stolen every day in her library. Thieves are stealing the phones out of purses and leaving the purse and wallet.
The fact that thieves are leaving the wallet just underscores the value of your cell phone. It isn't just a phone anymore, and it needs to be protected.
Today's Quick Tip (QT):
Lock your phone, consider adding a GPS tracking app on it and keep it close by.
1. If you have a smart phone, use the locking function to make it more difficult to access data if the device is stolen.
2. Consider having GPS tracking on your phone. If it is stolen, your phone carrier can trace it and get it back.
3. Remember that phones are huge targets for thieves. Cell phone theft is a real threat. Pay attention to where your phone is at all times.
To get more great information about staying safe online, including access to free monthly newsletters, webcasts and more, visit the Center for Internet Security at www.cisecurity.org. Stay tuned for our next chat!
Kristin Judge is the Director of Partner Engagement for the Center for Internet Security, Multi-State Information Sharing and Analysis Center. She can be reached at kristin.judge@msisac.org.