Posted on
Thu, Oct 25, 2012 : 11 a.m.
Safe online shopping during the holidays…and the rest of the year
By Kristin Judge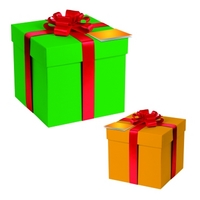 There was uproar recently after a national retailer aired a Christmas commercial before Halloween.
As much as the average consumer complains, the holiday shopping media blitz starts earlier every year. As much as I don't want to add to that "talking about holiday shopping too early" phenomenon, we need to talk. The criminals are already planning schemes to take advantage of online shoppers.
Just how many Americans will go online for gifts this year? According to the recent Internet Retailer article, "More holiday shoppers head online," the number of Americans planning to do holiday shopping online is motr than half, at 51.8 percent, up from 46.7 percent in 2011. Shop.org has estimated that Americans will spend $96 billion online during the season.
The article cites a few reasons for the continued climb in online shopping. The growth of e-commerce options, the economy driving consumers to find bargains, and the mobile capability of so many Americas all contribute to the growing trend. Sometimes it is just easier to shop for a gift on your smartphone when you have a few minutes.
So before you let your fingers do the shopping this year, spend 15 minutes educating yourself. Consider this a present for yourself, or better yet, buy yourself a little something extra online this year. You deserve it!
Today's Quick Tips:
(These tips come from the MSISAC.org Newsletter Archive)
Secure your computer
Keep your operating system and application software updated/patched. Be sure to check that your anti-virus/anti-spyware software is running and receiving automatic updates. If you haven't already done so, confirm that your firewall is enabled.
Shop with trusted merchants
Limit your online shopping to merchants you know and trust. If you have questions about a merchant, check with the Better Business Bureau or the Federal Trade Commission. Confirm the online seller's physical address and phone number in case you have questions or problems.
Secure your online transactions
Secure Sockets Layer (SSL) is a technology to encrypt the credit card information that you send over the Internet. If you submit your financial information through an organization's website, be sure to look for indicators that the site is secure. Look for the browser's status bar and be sure "https" appears in the website's address bar before making an online purchase. The "s" stands for "secure" and indicates that communication with the webpage is encrypted.
Use strong passwords
If you need to create an account using a password with the merchant, be sure to create a strong password. Use at least eight characters, with numbers, special characters, and upper and lower case letters. Don't use the same passwords for online shopping websites that you use for any other account. Never share your login and/or password.
Avoid scams and fraud
Don't ever give your financial information or personal information over e-mail, text or by phone. Be aware of unsolicited communications purporting to represent charities. Always think before you click on e-mails you receive asking for donations, and contact the organization directly to verify the request.
Do not use public computers or public wireless to conduct transactions
Do not use public computers or public wireless for your online shopping. Public computers may contain malicious software that steals your credit card information when you place your order. Criminals may be monitoring public wireless networks for credit card numbers and other confidential information.
Ignore pop-up messages
Set your browser to block pop-up messages. If you get an e-mail or pop-up message that asks for your financial information while you're browsing, don't reply or follow the link. Legitimate companies won't ask for financial information in a pop-up message. Close out of the pop-up message by closing out of the browser.
Pay by credit card
Pay by credit card rather than debit card, as credit cards are protected by the Fair Credit Billing Act and may reduce your liability if your information was used improperly.
Keep a paper trail
Print or save records of your online transactions, including the product description and price, the online receipt, and the e-mails you send and receive from the seller. Carefully review your credit card statements as soon as you receive them to confirm that all charges are legitimate. Contact your credit card company immediately if you have unauthorized charges on your account.
Review privacy policies
Review the privacy policy for the website/merchant you are visiting. Know what information the merchant is collecting about you, how it will be stored, how it will be used, and if it will be shared or sold to others.
What can you do if you encounter problems with an online shopping site?
Contact the seller or the site operator directly to resolve any issues. You may also contact the following:
Your county or state consumer protection agency www.usa.gov/topics/consumer.shtml
The Better Business Bureau www.bbb.org
The Federal Trade Commission www.ftc.gov/
To get more great information about staying safe online, including access to free monthly newsletters, webcasts and more, visit the Center for Internet Security at www.cisecurity.org. Stay tuned for our next chat! Kristin Judge is the executive director of the Trusted Purchasing Alliance, a division of the Center for Internet Security. She can be reached at kristin.judge@cisecurity.org.