Posted on
Wed, Feb 6, 2013 : 10:57 a.m.
Sandwiched: Celebrating Family & Medical Leave Act?
By Wayne Baker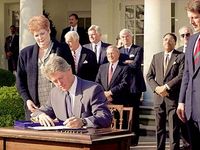 Editor's note: This post is part of a series by Dr. Baker on Our Values about core American values. This week Dr. Baker is discussing the sandwich generation.
Are you celebrating the 20th anniversary of the Family and Medical Leave Act (FMLA), signed into law by then-President Clinton in 1993?
This law "entitles eligible employees of covered employers to take unpaid, job-protected leave for specified family and medical reasons," according to the U.S. Department of Labor. If eligible, you could, for example, take time up to 12 weeks off from work to care for a spouse, child, parent with a serious health condition and have your job waiting for you when you get back. If you are a member of the Sandwich Generation, has this law helped you?
The FMLA was a signature piece of legislation for Clinton, though it has remained controversial. More than 40 percent of American workers are not eligible for FMLA. Employees of firms that employ fewer than 50 people are not eligible for coverage. Some states have lowered this cutoff, but employees of most small firms are out of luck.
There's also a required minimum number of hours worked for an employer. These days, many people piece together part time jobs that yield full time hours, but are ineligible for the FMLA because they don't have enough time with any one employer. And, the FMLA covers only immediate family, while care may be needed by other relatives. Some states have refined the law to include domestic partners, though this is not included in the federal law. (There's a lot to the FMLA, so for details visit the Labor Department's web site on the law.)
Employers don't always follow the spirit of the law. Women are more likely caregivers than men, as we've discussed this week, and some employers subtly discriminate against women in the hiring process as a result. But sometimes employees claim FMLA days for reasons unrelated to care giving. The day after the Super Bowl, for example, is the most frequently claimed FMLA day.
Has the FMLA helped the sandwich generation?
Have you personally used it to help aging parents?
Wayne Baker is a sociologist on the faculty of the University of Michigan Ross School of Business. Baker blogs daily at Our Values and can be reached at ourvaluesproject@gmail.com or on Facebook.