Posted on
Mon, Feb 11, 2013 : 10:29 a.m.
State of the Union: What address would you like to see?
By Wayne Baker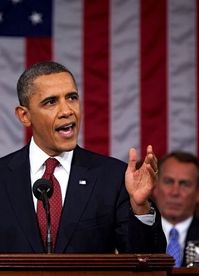 Editor's note: This post is part of a series by Dr. Baker on Our Values about core American values. This week Dr. Baker is discussing the State of the Union.
Tuesday, President Obama gives his fifth State of the Union address, the first in his second term of office. We could predict what topics he will address, but I've got a better question today:
What should the president say?
I'll start: Typically, the State of the Union is problem-focused. Jefferson's first State of the Union, for example, discussed the maritime troubles with the Barbary States and new security measures.
But the State of the Union could also address, well, the state or condition of the Union—in particular, the values that still unite us. Jefferson did so in his first inaugural address. Noting the polarized and animated debates of the times, he reminded everyone of what they had in common: "But every difference of opinion is not a difference of principle. We have called by different names brethren of the same principle. We are all Republicans, we are all Federalists."
We could use that same message today: a reminder that many values still unite us, despite the polarized rhetoric that so distracts us from what we have in common. The foundation of OurValues.org is scientific research that documents the values that are widely shared by Americans. These include respect for others, freedom of expression, equality of opportunities, universalism, security, symbolic patriotism and critical patriotism. We might have different opinions about how to express these, but every difference of opinion is not a difference of principle.
Would you like to see this kind of state of the union address?
What would you like Obama to cover?
Wayne Baker is a sociologist on the faculty of the University of Michigan Ross School of Business. Baker blogs daily at Our Values and can be reached at ourvaluesproject@gmail.com or on Facebook.