Posted on
Thu, Sep 5, 2013 : 5 a.m.
Syria: Why do many Americans oppose military retaliation?
By Wayne Baker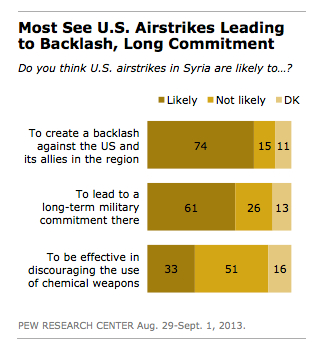 Editor's note: This post is part of a series by Dr. Baker on Our Values about core American values. This week Dr. Baker is discussing Syria.
Fingers are inching closer to the launch button, now that the Senate Foreign Relations Committee voted to authorize limited airstrikes against Syria in response to the alleged use of chemical weapons. Final authorization is still a ways off, but we're moving in that direction.
Should we push the button?
Would you feel personally responsible if we did?
The majority of Americans believe there is clear evidence that the Syrian regime used chemical weapons to kill its own people, according to a Pew survey conducted just days ago. But only three of 10 Americans favor airstrikes against Syria. Why?
Overwhelmingly, Americans believe that airstrikes would create a backlash. Almost three-quarters (74 percent) fear a backlash against the U.S. and our allies in the Middle East. More than six in ten (61 percent) believe that airstrikes would be the beginning of a long-term military engagement. And, only 33 percent believe that airstrikes would actually discourage the use of chemical weapons.
Do you oppose or approve of airstrikes against Syria?
Is your opinion based on pragmatic reasons, moral reasons, or both?
Would you feel personally responsible if the U.S. launched airstrikes against Syria?
Wayne Baker is a sociologist on the faculty of the University of Michigan Ross School of Business. Baker blogs daily at Our Values and can be reached at ourvaluesproject@gmail.com or on Facebook.