Posted on
Wed, Dec 5, 2012 : 9:21 a.m.
Teens online: Is there a secret life inside that laptop?
By Wayne Baker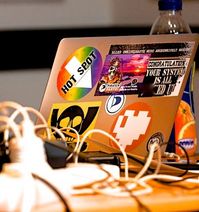 Editor's note: This post is part of a series by Dr. Baker on Our Values about core American values. This week Dr. Baker is discussing teens and the Internet.
Parents worry about what their kids do online and use parental controls to limit what their kids see and do. But do teens have secret online lives anyway?
The facts are startling. The McAfee company, which sells security software for computers, regularly commissions the Harris Poll to report on "The Secret Online Lives of Teens." Waves of this McAfee-Harris study were widely reported in 2008 and 2010; then this year McAfee commissioned a report on internet use by teens in India.
The reports — now worldwide — consistently indicate: Millions of teens deliberately engage in risky behavior, including sharing passwords and downloading inappropriate content, including pornography. The risks also include regularly chatting with strangers online.
Over the years, the studies also have shown that girls are more socially oriented online, so they are more likely than boys to talk to strangers. Girls also are more likely to wind up being bullied online than their male peers.
Think things are getting safer? The data suggest otherwise. Here are some of the latest findings among Indian teens: They use all sort of ways to foil their parents' good intentions. The survey found, for example, more than a third intentionally access sites with pornographic material. Here are some other facts:
Two of 10 teens hide or delete their instant messages.
Almost four of 10 clear their browser history so their parents can't see where they've been online.
About 17 percent went so far as to create fake or duplicate accounts on social media sites.
About the same percent disable the parental controls their parents set up.
How about you, your family and your friends?
Do you really know about your kids' online life?
Have your kids willfully hidden their online activities from you?
Wayne Baker is a sociologist on the faculty of the University of Michigan Ross School of Business. Baker blogs daily at Our Values and can be reached at ourvaluesproject@gmail.com or on Facebook.