Posted on
Mon, Dec 3, 2012 : 9:36 a.m.
Teens online: Worried about what they'll see? Or, do?
By Wayne Baker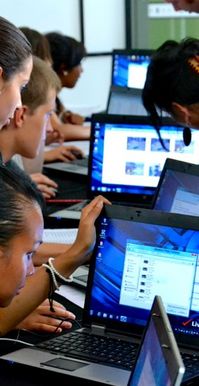 Editor's note: This post is part of a series by Dr. Baker on Our Values about core American values. This week Dr. Baker is discussing online safety.
Are you worried about your teenager's online presence? Teens today are members of the digital generation. The Internet, social media, smart phones and computers are as natural to them as the dial telephone was to their parents.
Parents — typically members of the analog generation — are often a step behind their kids when it comes to online knowledge and experience. And many worry about their kids online.
What's your biggest concern?
PRIVACY? More than eight of 10 parents of teens are concerned about how much information advertisers can glean from their kids' online activities, according to a new survey by the Pew Center. Almost half (46 percent) are very concerned. Earlier on OurValues.org, we discussed a widely publicized incident involving the illegal collection of data by the fan sites of some teen pop stars.
STRANGERS? Interacting with strangers is another big worry. More than seven of 10 parents are worried about their teens interacting with strangers online. More than half are very concerned.
REPUTATION? The majority of parents are also worried reputation management and the future repercussions of their teen's online activities. Parents worry that what their teens do online now might harm their future employment prospects or academic opportunities. We know, for example, that many employers today are mining social media sites to get information about job applicants.
What's your personal experience with teens and their online activities?
Do you have any horror stories?
Or, is all this worry just an example of overbearing parents?
Wayne Baker is a sociologist on the faculty of the University of Michigan Ross School of Business. Baker blogs daily at Our Values and can be reached at ourvaluesproject@gmail.com or on Facebook.