Posted on
Mon, Nov 19, 2012 : 9:42 a.m.
Thanksgiving: Looking back long ago and far away
By Wayne Baker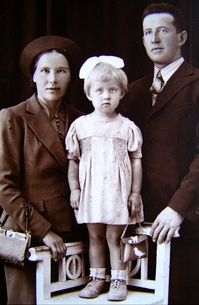 My Grandmother at age 2 in 1939.
THIS WEEK, OurValues-creator Dr. Wayne Baker welcomes Dmitri Barvinok, writing a special, personal series of Thanksgiving stories. Dmitri is a journalism student at Michigan State University and also is the media director for OurValues. Normally, Dmitri's work is behind the scenes, promoting greater awareness of this online project to encourage civil dialogue. We hope that Dmitri's Thanksgiving stories will inspire you to reflect on your own family.
Here is Part 1 in his series …
Thanksgiving is a natural time to look back over the past year and offer thanks, especially for those things that we take for granted. All this week, however, I invite you to look back further—much further—through the 20th century and even into the 19th century.
I will be relaying anecdotes from old Belarus, a country just southwest of Moscow and often overlooked in favor of the larger Russia. Why look so far away? Because in weighing our thanks, we tend to overlook many basics in our lives—things completely missing in past generations.
Today, let's think about schooling.
In the small town of Slonim, Belarus, where my grandmother has spent her entire life, there existed an order of religious sisters: the Sisters of the Immaculate Conception. They ran the Institute of Noble Maidens—an all-girl's school from the early 1900s up until 1944, when a Soviet school opened. In 1947, the Sisters were forced to leave Slonim, even though their school had been widely regarded as the finest school for young women in that part of Belarus.
During the last year of Nazi occupation, an additional school opened. The teacher there was a graduate of the Institute of Noble Maidens—however, she was anything but. My grandmother still recalls her arithmetic lessons. The young students all had counting sticks: colored sticks that could be used to physically demonstrate arithmetic problems.
My grandmother recalls, "For the smallest mistake, she would sweep our sticks onto the floor and hit our palms with a ruler. Then later, when we were sent to kneel in the corner, she would chase us and lash at our legs." My grandmother always struggled with arithmetic.
After World War II, she started first grade. Her teacher was one of the remaining Sisters. In first grade, she sat with students of all ages: 12, 14, even as young as 7. Everyone was put in the grade that they had started before the war interrupted life.
There were no desks to speak of, just long tables and long benches. School was held between hard labor, the worst of which was carrying grain to the mill and waiting in endless lines to get your turn at the grindstone.
Yet, my grandmother finished school in 1955, and eventually entered medical school—and she quickly became an A-student.
Have you caught yourself taking schools for granted?
What memorable barriers did your family face in pursuing education?
Why are you thankful for schools?
Wayne Baker is a sociologist on the faculty of the University of Michigan Ross School of Business. Baker blogs daily at Our Values and can be reached at ourvaluesproject@gmail.com or on Facebook.