Posted on
Mon, Nov 14, 2011 : 2 a.m.
The #Fridging trend, brought to you with a healthy spin
By Eva Johnson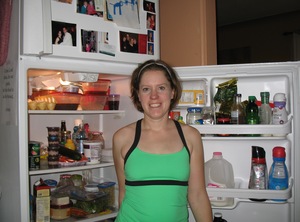 photo by Eva Johnson's camera
There I was, just catching up with the December 2011 Glamour Magazine as I jogged on the treadmill... I opened it to see models posing inside their fridges. It is a trend called #Fridging.
Weird? Absolutely.
Funny? Kinda.
Something worth trying? Of course!
So, here's my #Fridging photo. Me, after my workout, posing in front of my open refrigerator. Hair flying out of place, glasses missing, barely any makeup. Not exactly glamourous like Nicki Minaj with her platforms heels, but silly, nonetheless.
Why did I pose in front of my fridge, really? To show you what is in that recent Sears purchase! Oh, and to prove that I do give my kids treats even though many of you out there wanted to label me as the meanest mom in Ann Arbor for my candy buy back!
I drink coffee (as shown in the photo) with three different types of creamer. I give my kids treats like chocolate pudding and rice crispies in every cold lunch. I have the largest size of eggs I can buy from Meijer. I love hummus and cottage cheese. I also love to give my kids probiotic yogurt cups to keep everything churning inside as it should.
You can't see the stockpile of cheese I have, but you may notice that I have carrot sticks waiting behind me, with yogurt ranch. I also have whole wheat tortillas waiting for a quick lunch wrap.
This is just a snapshot of a typical day in my fridge. I didn't doctor it (notice the unidentified leftovers) and make it look like a perfect fridg-uation... I also didn't really clean it up, either. I wanted this #Fridging to be real. Just like me. I eat real food, and I don't tell people that you can't be healthy and have a life too.
What would I see if you were to pose in your fridge? Would it look healthy? Would it be empty? Or, would it look like it is heading for a heart attack? I want to see you, in your fridge!
Eva Johnson is an ACE (American Council on Exercise) certified personal trainer who ate the pizza leftovers the day before this photo was taken. She lives in chaos with her husband and two boys. To see her complete blog about how to stay sane and in shape in the real world, visit www.fitnessbyeva.com.