Posted on
Mon, Jan 21, 2013 : 10:20 a.m.
U.S. Churches: Is Obama a first-timer, switcher, returnee?
By Wayne Baker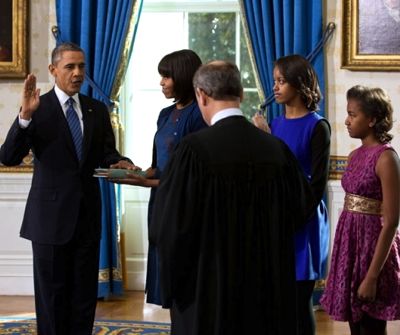 Editor's note: This post is part of a series by Dr. Baker on Our Values about core American values. This week Dr. Baker is discussing U.S churches.
President Obama was sworn in yesterday inside the White House, fulfilling the Constitutional mandate that the official swearing-in take place before noon on January 20. Like most presidents, Obama's left hand was on a Bible. This Bible belonged to the First Lady's paternal grandparents (a famous Lincoln and MLKing Bible will be used in the public ceremonies today).
At least two presidents famously declined to use a Bible—Teddy Roosevelt and John Adams. The nation's founders were an eclectic group when it came to religion, as we've discussed before.
How typical is Obama?
In some ways, he is quite typical of American worshipers. Congregational mobility is the norm in America, according to the U.S. Congregational Life Survey. "Between 40 and 70 percent of worshipers in a typical congregation grew up in or transferred their membership from a congregation in another denomination," writes Cynthia Woolever and Deborah Bruce in Leadership That Fits Your Church. This book is the latest publication based on their large representative sample of congregations, pastoral leaders, and parishes.
What are the main groups of people who go to church in America?
NEW: About one-third of all worshipers are new, meaning that the worshiper has attended the current place of worship for five years or less.
FIRST TIMERS, RETURNEES, TRANSFERS: New worshipers include sub-groups—first-timers (those who have not attended church before) and returnees (those who stopped attending services but came back later). Transfers are new worshipers who moved from a different church in the same denomination.
SWITCHERS: This is the largest group of new worshipers in Protestant churches, switching to a new denomination because of marriage, moving to a new community, or other reasons.
Under these categories, Obama is a typical switcher. The Obamas were members for many years of Trinity United Church of Christ in Chicago. They were married and their daughters were baptized there. They withdrew their membership after controversial remarks by then-pastor Jeremiah Wright.
Since occupying the White House, the president and his family have irregularly attended services and have worshiped at various churches. This includes St. John's Church, also known as the Church of Presidents. This church is located opposite the White House. Pew 54 is the Presidents' Pew, reserved for the chief executive and his family. The Obamas don't have a "home" church in the nation's capital.
Care to read more about this study of American church life? ReadTheSpirit is reporting on the study's larger conclusion all week.
If you worship, have you switched places of worship?
Or, are you a returnee or first-timer?
Wayne Baker is a sociologist on the faculty of the University of Michigan Ross School of Business. Baker blogs daily at Our Values and can be reached at ourvaluesproject@gmail.com or on Facebook.