Posted on
Wed, Dec 14, 2011 : 4 p.m.
Walking vs. running in a boxing match
By Eva Johnson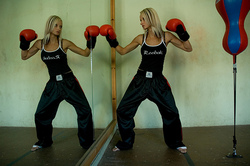 photo by flickr user adampigott
In this corner, we have walking. Walking is a fantastic way to exercise, easy on the joints, inexpensive and one of the best ways to start a fitness habit.
In the other corner, we have running. Running is a fabulously inexpensive cardio workout and very challenging, but it can also be difficult on the joints.
Both are great workouts, so why are we comparing?
Because I was apologized to. For not running. In fact, I often hear people say to me: "I am sorry, I can't run, but I do walk."
I always have to respond with something like, "Why are you apologizing for doing something that is so wonderful for your body? Why do you make yourself feel shame for not running? It doesn't matter how you move, just that you do!"
I also find that runners often feel a sense of "eliteness" because they run. This is silly. You are not a better person or more in shape because you run. Yes, running is more intense, but I know many walkers who can walk twice as fast as me. Walking has also been proven to be more effective for health than running over the long haul, due to it being less likely to cause injury.
Stop the madness. Please walk or jog, or skip, or jump or dance! Just move. Today. Don't let me catch you driving to the mailbox to collect your mail!
Eva Johnson is an ACE (American Council on Exercise) certified personal trainer who likes to run for wine, anytime. She lives in chaos with her husband and two boys. To see her complete blog about how to stay sane and in shape in the real world, visit www.fitnessbyeva.com.