Posted on
Sun, Oct 21, 2012 : 6:08 a.m.
Warm the Children's positive impact goes beyond the 3,000 kids who benefit from the program
By Angela Smith
With winter weather fast-approaching, many community members want to know more about the outlets they turn to when they're feeling in the giving mood.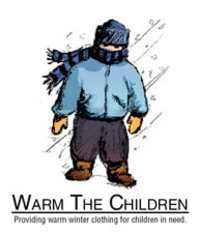 An AnnArbor.com reader recently commented on with this question:
"This is a generous program with true LOCAL benefit. I have given happily since its inception, but always wondered who designed the simple but oh so appealing logo — can't look at it without swallowing hard and reaching for the checkbook. Can anyone provide info?"
Though Warm the Children is a local Washtenaw County effort, led by AnnArbor.com to serve our community, I had to look to Mack Stewart, in Higganum, Conn., for the answer.
Stewart founded Warm the Children in 1988 and the program made an immediate and obvious difference in the community it served, according to the WTC website.
The logo art, which Stewart refers to as "the bustling kid," has been a part of the program since its early years. Artist Herb Abrams, who is known for painting two of the presidential portraits that hang in the White House, is responsible for its timeless look. Abrams and Stewart met and became friends during Warm the Children's inception. Stewart looks back at the time with fond memories:
"I met Herb Abrams in 1986 at a small tennis club in Connecticut to which we belonged; both of us were looking for a group to play with. About five years later (after many happy hours on the court with Herb) Herb decided he'd like to try golf…at that time he had an old set of clubs [he had] gotten from somebody's basement. I was trying to get Warm The Children off the ground, needed someone to do a logo which captured the flavor of the program...what Warm The Children was about. I approached Herb at his studio near Warren, Connecticut and he gladly "volunteered." He did not ask for a fee, but when he finished I gave him a set of golf clubs, pretty good ones, actually, which he used for a long time."
Stewart recalls many memories in the 24 years that he has been running this campaign. He turned the program in to a national effort after finding himself without a job at the age of 60. He's brought the program to 30 communities, all organized by local news sources — Ann Arbor being among the most robust, striving to serve 3,000 children this year.
But for Stewart, the memories that come up most often are the ones he's made as a volunteer shopper in his own community.
Stewart and his wife have shopped with dozens of families, and the personal connection made by doing so is what fuels this program in so many communities.
And volunteer shoppers in our local Warm the Children program can relate. "The feedback I receive most from our volunteers is that they enjoy being a shopper because they get to experience true joy from the children that are picking out their own clothing," says Kori Issacc, who coordinates the program for AnnArbor.com. Isaac is on the receiving end of many notes and calls offering feedback from volunteers who wish to share their experiences.
"I just wanted to drop a quick note about my recent shopping experiences. I was able to complete both of my assignments last night, one at 6:30 p.m. and one at 7:30 p.m. I had to write to tell you what an absolute pleasure it was.

"The first gentleman, a single father of three young girls, was so appreciative, so humble and so thankful for all that he was able to receive. Having just moved from Florida, his young girls had no winter clothes and as he struggles to provide all that he can for them, this help was truly a blessing. He has hopes to complete a degree in nursing, and vows to ensure that his family is always provided for. At the conclusion of our shopping, he asked if he could hug me. He could not stop thanking me, not only for the "fashion advice", but also for taking my time to help him — time which could have been spent with my own children.

"Immediately afterwards, my next assignment arrived (15 minutes early) as she was so excited. She related to me how she normally did her shopping at Goodwill, and as we walked and shopped, we developed a great rapport. She told me how she is hoping to become a teacher, and how she is volunteering now at her son's preschool, and how her love of children (especially her son) drives her to do what she can to better herself. We were able to purchase so many wonderful items — gloves, a warm winter coat, warm pants and toasty shirts. Before we parted, she told me how some day, she hoped to be the "shopper" rather than the recipient, and that she felt truly blessed to have met me, and for the Warm the Children program in general. She couldn't wait to present these new clothes to her son. She stated he would probably want to sleep in them, since most of his clothes were all hand-me-downs or used. Before she left, he gave me a big hug, and we said our good-byes. I think I noticed tears in her eyes, though she tried to remain strong.

As I drove home, I couldn't help but think about the night. My heart felt overwhelmed with joy — I felt that I had truly made a difference."
If you are able to help, there are a number of options for doing so.
Donate. If you would like to contribute to Warm the Children, you can use the coupon or link accompanying this story, or call the Warm the Children hotline at (734) 623-2525. Donate also are accepted at any United Bank and Trust branch.
Volunteer. Members of the community can give in a way that feels meaningful, even if they cannot afford to support financially this year. Warm the Children works with volunteers who offer their time as personal shoppers to shop with the recipient families. If you have an hour or two to help out with this effort, contact Warm the Children via the Hotline, website, or coupon listing below.
Spread the word. Do you know a family that could benefit from this program? Participation is based on need, and referrals happen through school and community social workers. Do you know of a group that is looking for a special way to give back to the community this season? Suggest they create an event to raise funds for Warm the Children.