Posted on
Wed, Mar 10, 2010 : 6:30 a.m.
A view from the Boulevard, now called Cedar Bend Drive, in the 1880s
By Elizabeth Palmer
Ann Arbor, View from [the] Boulevard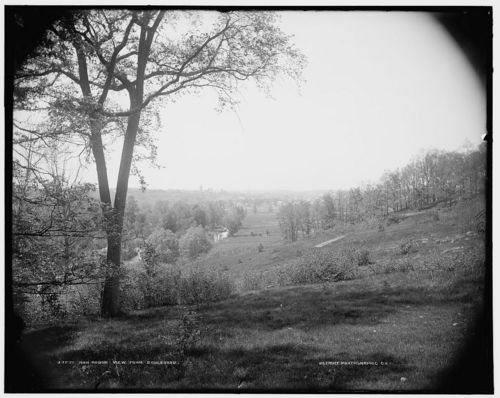 This photograph is a part of the Detroit Publishing Co.'s collection held at the Library of Congress. It was taken between 1880 and 1889. Library of Congress, Prints & Photographs Division, Detroit Publishing Company Collection, [LC-D4-3771]
Shelved in the downtown branch of the Ann Arbor District Library is a short and slender volume entitled Pleasant Walks and Drives about Ann Arbor, a compilation of pieces written on the subject in 1899 by Judge Noah Cheever. Published in 1999 by the Bentley Historical Library, the book is also available via Google Books. The fact that this book was put together is great news for history nerds like myself who like to piece together historical references that have fallen out of use with their contemporary incarnations.
While on the Library of Congress Web site not that long ago, I came across this breathtaking photo, vignetted in the corners and simply referred to in the catalog as Ann Arbor, View from Boulevard. "I want to use this!" I thought, "It would be a great image for the series." There was only one problem: Where in the heck was the Boulevard? It turns out that the Boulevard is known to us in this day in age better as Cedar Bend Drive. In Cheever's words:
"This, in the main, is Cedar Bend Avenue, now called the Boulevard...The Boulevard proper, extending from the north river road to Broadway, is only about three-quarters of a mile in length, and it seems rather pretentious to call it a Boulevard, still it makes up in beauty for what it lacks in extent."
So taken was he with this bit of land that he goes on to say:
"As many as nine hundred have been counted passing over this boulevard on a beautiful spring or fall day. It is a favorite walk and drive for the students in our community as well as the citizens, and the city ought to own the land between the Boulevard and the river, including ["Picnic"] island and the property of John F. Lawrence and B.S. Sudworth, between Fuller street and the north river road to the river. This would make one of the finest parks in the country, and it would in the end pay the city to purchase and improve these lands for this purpose."

A newly formed Ann Arbor Parks Commission seemed to agree in part (as they acquired some lands to preserve most of this natural area in 1905), thus, for this and his amazing chronicling of scenic past Ann Arbor, I assert my great appreciation for the efforts of Judge Noah Cheever in this context. Pleasant Walks and Drives about Ann Arbor is simply a wealth of useful information for anyone who wishes to get to know their city better. As Judge Cheever puts it when discussing these "walks":
"…[they are] almost innumerable, [and] can be enjoyed by all lovers of out-of-doors exercise."
Though the views today are not what they were, the editors of the book, professor John Knott and (a student at the time) Alicia Lavalle, have detailed the contemporary routes for each walk featured in Pleasant Walks and Drives about Ann Arbor. I can't wait until it is warm enough for me to take Judge Cheever up on his suggestions.
Elizabeth Palmer is the Customer Advocate at AnnArbor.com as well as a contributor. She writes about food and food traditions, sustainable development and her experiences as a curvy girl. She has a bachelor's degree in photography and is finishing her masters in historic preservation. Elizabeth also teaches a course on sustainable development at Eastern Michigan University. You can contact Elizabeth by e-mailing her at elizabethpalmer@annarbor.com
.