Posted on
Fri, Jul 30, 2010 : 9 a.m.
Not your average summer camp: Green Adventure campers work on a farm, learn to be 'green'
By Wendy Ochoa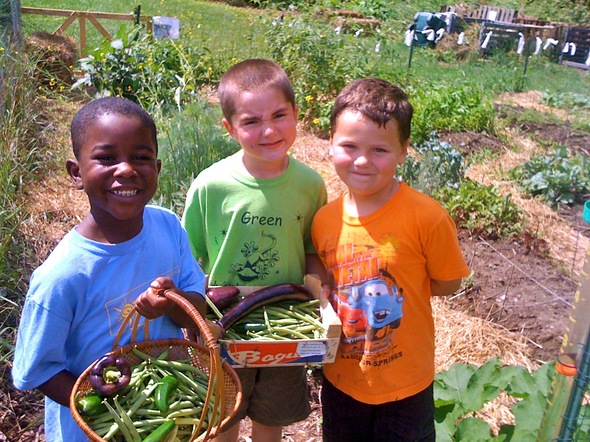 Photo courtesy of Ryan Brown
Summer camps are supposed to be about campfires, arts and crafts, swimming and buddy checks, and perhaps some archery or horseback riding—right?
Not
Green Adventure Camp
, housed at
Lakewood Elementary School
on Ann Arbor's West Side. This camp aims to combine fun with lots of learning about the environment.
Green Adventure Camp "teaches kids how to be green, teaches their families how to be green, and creates environmental ambassadors," said camp director Ryan Brown.
Green Adventure Camp, which is being offered for the third year by Ann Arbor Public Schools Community Education and Recreation, is an academic enrichment camp that is designed "to engage students and to combat summer learning loss," Brown said.
The camp's program is divided up into two-week themes with titles like "Where our wild things are," and "Caring for the Globe." Within those, Brown said, there are two weeklong sessions with related topics. The "Caring for the Globe" session includes the "Growing Green" and "The Secret Life of Trash" topics.
The daily program is broken up into two parts: a lesson in the morning taught by certified teachers and a field trip in the afternoon led by camp counselors and two naturalists from Ann Arbor Public Schools.
Students are taught lessons such as how to look at food labels for ingredients and how to find out where their food comes from. Those lessons were followed by a field trip to Kroger where campers completed charts comparing certain food items, Brown said.
"I like (camp) a lot because we have academic time in the morning," said 10-year-old Kern Chepeha of Ann Arbor. "I like learning new things."