Posted on
Tue, Jul 6, 2010 : 10 a.m.
75-year-old Ann Arbor Civic Band makes temporary move to Burns Park
By Anna Fuqua-Smith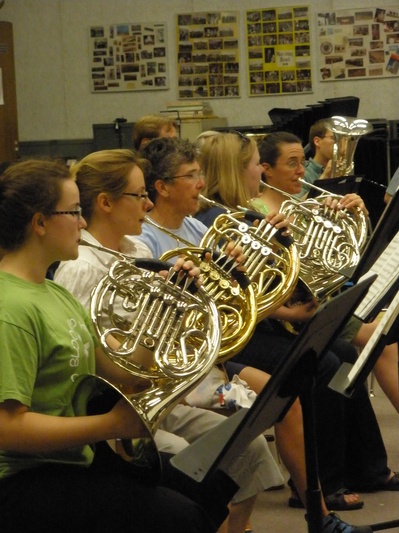 Anna Fuqua-Smith | Contributor
The displaced 75-year-old Ann Arbor Civic Band has a new temporary home this summer.
Beginning in late June and lasting through its performances scheduled for each Wednesday in July, the volunteer band is playing in Burns Park instead of at its usual home at the band shell at West Park. The Civic Band had to relocate because of a major construction project that's under way at West Park to correct drainage issues.
Although several band members said they're glad to be playing at Burns Park this summer, West Park's band shell is in a great location with good acoustics and they're anxious to move back.
Six-year band member Bob Lyons, 56, is happy about the temporary move.
"I think it's wonderful. I'm just very excited about it," Lyons said. "And that's what has been fascinating is the reaction of the people, and I think in terms of their neighborliness."
The Civic Band originated in the University of Michigan School of Music.
Once the music school's program expanded, the band was released to Ann Arbor Parks and Recreation. Up until two years ago, it was funded by parks and recreation but due to economic conditions, funding was cut. Members then had to pay a fee of $20 to play six concerts over the summer.
Ann Arbor Civic Band
Summer 2010 schedule at Burns Park:
June 30: Fourth of July

July 7: Children's Concert

July 14: Music of the Movies

July 21: Traveling Music

July 28: Broadway

Each summer, the band initially contacts 90 musicians, but at any given concert 65 to 75 musicians will play. The Civic Band is considered a community group and is open to any musician upon audition.
All music is selected by conductor Bill Gourley, who directs the band. Along with the Civic Band's library and other contacts Gourley has, he chooses different pieces and themes for each concert.
According to the
Ann Arbor Public Art Commission
, the construction at West Park will address storm water issues, build bioswales and new pathways and improve access to the park.
New seats will also be built into the hill to improve the view of the park's band shell. Detailed construction plans can be found on the Ann Arbor Parks and Recreation website.
John Ginther, 75, who has been playing for the band for 30 years, said he'll miss West Park's band shell this summer. "The shell amplifies the sounds and pushes it out into the audience," Ginther said. "On the other hand, we have access to another population and maybe will get new followers."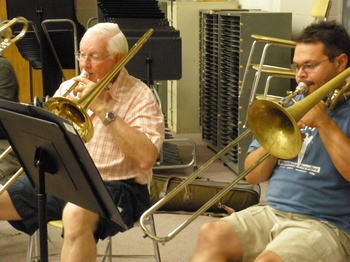 Anna Fuqua-Smith | Contributor
Bob Bartlett, 71, of Ann Arbor has also played with the band for 30 years and is looking forward to the changes under way at West Park. "It's in the center of town. The grounds at the band shell were always wet at the least, flooded at the most," Bartlett said. "There were a lot of mosquitos, and lots of problems from the kids running around. So, that's what they're fixing, the draining of the field."
Mac Danforth, 72, said he's looking forward to the band being home again in West Park.
"Since I played in Burns Park while I was a kid, it's fun to be over there to play," Danforth said. "The shell at West Park is a much better venue to perform in. I hope we're going back to West Park again next year once they finish with their project over there."
Gourley describes the music selection for this season as a "lighter fare," which is also due to the fact that the band will be performing outside. The Civic Band will perform on the basketball courts outside of Burns Park Elementary off of Wells Street each Wednesday at 8 p.m.
Anna Fuqua-Smith is a summer intern for the Community Team at AnnArbor.com. Contact the staff at community@annarbor.com.