Posted on
Mon, Oct 11, 2010 : 2:43 p.m.
Community High School students help rid Ann Arbor-area parks of invasive plant species
By Jason Frenzel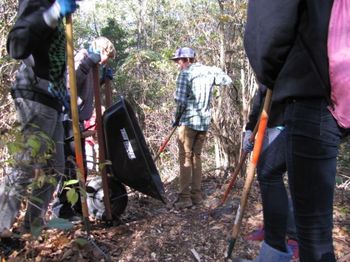 Photo courtesy of NAP
Community High School
, part of
Ann Arbor Public Schools
, partnered again with
Natural Area Preservation
unit of the city of
Ann Arbor
on the morning of Oct. 6 to volunteer their time and energy to continue the fight against invasive plant species throughout Ann Arbor natural areas.
Community High School students previously partnered with NAP on April 28 for their "Community High School Day of Caring." At that event, half of the student body came out and got their hands dirty. This time there were approximately 360 students who participated and volunteered a total of 960 hours for NAP!
Although NAP has partnered with many organized volunteer groups in its 17 years of existence, this particular group was NAP's largest to date. This magnitude of volunteer effort not only benefited the local park ecology, but also enhanced the high school students' ecological awareness in their community.
Many students said they were very excited to be working with NAP again and were already looking forward to helping out with garlic mustard weed-out events in the spring. NAP hopes to make these two large workdays annual events with Community High.
Ten local Ann Arbor nature areas and parks were selected as workday sites for the big event. These locations were chosen primarily based on their proximity to Community High School, as all the students either walked or rode the AATA buses to their assigned park.
AATA generously donated free bus passes to all students using the public transit system to get to their workday site. Each site had approximately 25-40 kids who either focused on removing invasive shrubs, such as honeysuckle and buckthorn, or wood-chipping trails under the supervision of NAP staff, volunteer leaders and high school teachers.
This work directly benefited the local ecological diversity of Ann Arbor's natural areas and/or the user experience of Ann Arbor residents and visitors in our city parks. The nature areas that NAP and Community High worked at including Bird Hills, Black Pond Woods, Bluffs, Cedar Bend, Dolph, Gallup, Kuebler Langford, Leslie Woods and Mary Beth Doyle park. Additonally, students worked at Greenview, which is not a city park, but the city has a management agreement with AAPS and the neighborhood volunteers regarding it. In addition to working with Community High students and teachers who were out in the field that day, NAP also relied on the collaborative support of a large network of local peer organizations to make this event a success: the Stewardship Network, Matthaei Botanical Gardens and Nichols Arboretum, Legacy Land Conservancy, the Friends of Greenview Nature Area, the Conservation Stewards Program (MSUE) and the AATA. Internal city partners were Forestry and Park Operations.
These partners helped by loaning tools and referring additional volunteer leaders needed to facilitate the work of so many volunteers. Overall, this event was incredibly successful from NAP's perspective!
Total number of Community High students: About 360
Community High Teachers: 24
Total volunteer hours: 980
Non-NAP hours leading workday (volunteer leaders): 45
Paid staff hours leading workday: 49.5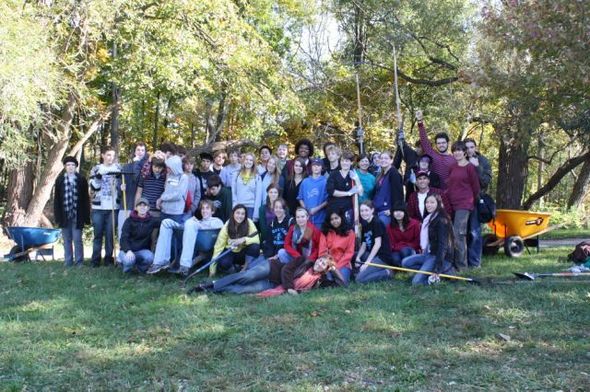 Photo courtesy of NAP
Jason Frenzel is Natural Area Preservation volunteer and outreach coordinator for the city of Ann Arbor.