neighborhood news:

Ann Arbor Rec & Ed's longest running volleyball team: Club Negril, together for nearly 30 years

Posted on Thu, Jun 24, 2010 : 3:30 p.m.
Melanie Maxwell | AnnArbor.com
Separately they are a blacksmith, a high school crew coach, a family physician, a university student, an engineer and an unemployed comptroller. They work for DTE, for the Center for Automotive Research, for Ford Motor Co. and for Walled Lake Schools.
Together though, they are Club Negril - the longest standing volleyball team that plays for Ann Arbor's Community Recreation and Education.
Founding members and friends since the sixth grade Don Todd, 54, and Kim Hill, 55, created the team in 1981. Both had played softball but the competition became too serious, according to Hill. The pair switched to volleyball and played on a county team. After one season they decided to branch out, recruit a few members and start the team named for Negril, Jamaica, where Todd had recently vacationed.
Of the nine members, the majority have been playing together for at least 20 years. For a time, the team played in both the men's league and coed league, often playing as many as three nights a week, Todd said.
"When I met my wife, I was playing three nights a week. After getting married, it got winnowed down," Todd said. As family commitments increased, he said that the team decided to play only in the men's league.
Club Negril has also sparked romance between teammates. Melissa Stanger, a member of the now defunct coed version of Club Negril, and John Quayle play the beach circuit throughout the summer and are partners both on and off the court. They've been in a relationship for 15 years. Stanger credits the start of the relationship to Club Negril.
Club Negril team record
According to Ann Arbor's Community Recreation and Education, here is Club Negril's win and loss record over the past decade:

1999-2000: 50 - 22


2000-2001: 55 - 17


2001-2002: 31 - 41


2002-2003: 6 - 15 (no fall or spring season data)


2003-2004: 27 - 24 ( no winter season data)


2004-2005: 28 - 41


2005-2006: 42 - 30


2006-2007: 42 - 30


2007-2008: 42 - 30


2008-2009: 39 - 30


2009-2010: 46 - 26
The team plays during the fall, winter and spring volleyball seasons and will begin its 30th year this fall. "Our record in just the last five years is 173 wins and 134 losses," said Todd, the de facto team record keeper, who called that his best estimate. According to Rec & Ed files, the team has won eight league or division championships and six playoff championships since 2000 and has a record over the past five years of 211 wins and 146 losses.
Club Negril is proud of its championships, for which it has been awarded volleyballs instead of trophies. Todd said the volleyballs are far more valuable to the team.
"A volleyball costs $40 or $50, so that's a great prize for us," Todd said. Although Club Negril has won many championships, Todd doesn't feel the team has a negative reputation.
"We're not hated, but people do like to beat us," he said.
Competition is not only what the team is about, though, according to Hill. "We always stressed the camaraderie," he said. 
One of the newest players, Steve Thiry, a member since 2003, built a sand volleyball court in his backyard. The team gathers there twice a week.
"It has been excavated 18 inches, has six inches of pea gravel and then three truckloads of sand from Grand Haven," he said. The Lake Michigan sand is a necessity. "It allows a grown adult in his mid-50s to throw himself (after a ball) with reckless abandon," he added.
"We try to keep the focus on the joy of playing," Thiry said. "And when that doesn't work we keep the joy at Arbor Brewing," team member John Rayer added.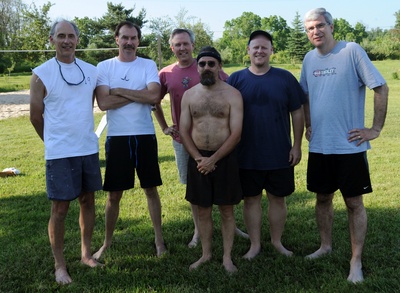 Melanie Maxwell | AnnArbor.com
Members of the group, who play two-on-two on beach nights in the summer, also consider themselves IPA connoisseurs. One Thursday evening this month, Rayer brought an IPA to share named "The Hopsecutioner." The team has refined its taste for IPAs and others at The Arbor Brewing Co., where they meet after games Thursdays during the court season.
"On Thursday nights, this is what I do. I play volleyball and honor the social commitment," said Hill.
The teammates have different reasons for playing. For 56-year-old Thiry, "exercising this vigorously is a great thing." For many it is, as Hill suggested, the camaraderie.
On a Thursday evening in June, the newest addition to the team, Mark Tessmer, brought along his family to share in the experience. His wife Diane played against him at times during the evening as their two sons, ages 6 and 3, played off to the side in the sand as if it were their own sandbox.
"It's like a fraternity, a brotherhood of volleyball players," said Hill. He added that they've supported each other through the years and watched families grow and change. "We've had toddlers cheering us from the stands who are now going off to college," Hill said.
Club Negril current members
The current team, with the year each person started:
Don Todd '81
Kim Hill '81
Al Maximiuk '87
Tom Kraft '90
John Rayer '90
John Quayle '92
Steve Thiry '03
Mark Tessmer '07
Bob Young '07
For the team's founders, "it's like we just don't miss a beat," said Hill. "That's kind of how it is with the volleyball league. Guys might take a season off here or there, but then they come back and it's like they never left," he added.
The members of Club Negril do come from differing backgrounds and experiences, but as the longest existing volleyball team in Community Education and Recreation history, they have bonded.
"If we have nothing else in common, we have volleyball," Hill said.