Posted on
Tue, Jul 20, 2010 : 1:27 p.m.
Mural honoring local veterans unveiled in downtown Ann Arbor near the Alley Bar
By AnnArbor.com Staff
If you've walked down West Liberty Street between Main and Ashley in downtown Ann Arbor over the past two days, it's likely you saw downtown's newest mural — it's hard to miss.
Photo by Holly Smith
The new mural is two-stories tall, covering the side of the building where the Alley Bar is at 112 W. Liberty St.
Painted by Mary Thiefels of TreeTown Murals, the work of art depicts close-up portraits of a dozen local war veterans. It was unveiled on Sunday.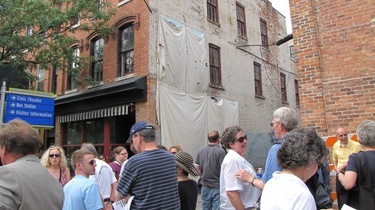 Photo by Holly Smith
The "Peaceworks Through Art" mural is meant to draw attention to the "human and economic impact of war on Michigan and honor local veterans," according to a statement from Thiefels and Laura Russello of
Michigan Peaceworks
, who collaborated on the project. The mural was funded in part by the Main Street Area Association with a $2,000 grant from the Downtown Development Authority. Thiefels and Russello raised another $1,500.
Short statements from each of the featured veterans are available on Michigan Peaceworks' website.
Got neighborhood news to share? Email community@annarbor.com.